What is tteokbokki? The next food trend is Korea's ultimate street food.
4 min read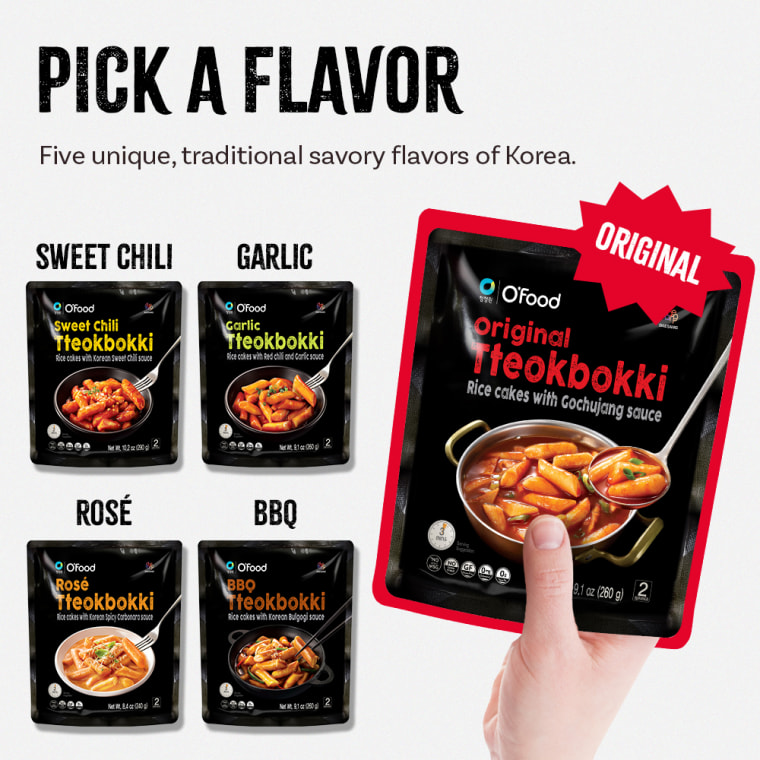 Ask any Korean what their favorite street food is and, most likely, at the top of the list will be tteokbokki — the pillowy soft rice cakes doused in a sticky red pepper sauce. Now the dish is gaining traction in the U.S. thanks to a confluence of Korean popular culture and accessibility. 
Pre-packaged versions of the food have started popping up at national wholesalers like Costco, online sales are spiking and tteokbokki-specific restaurants are expanding. There also was, of course, that moment BTS singer Jimin helped make it a trending item on social media when he was spotted eating it at a Seoul food market. Tteokbokki is also the preferred food of Ji-Young, Sesame Street's' first Asian muppet.
O'Food, a global producer of Korean pantry staples, started selling instant pre-packaged tteokbokki in the U.S. in October 2021 through online retailers such as Walmart and Amazon. Its sales of the rice cake have increased 450% over the last year. 
"Our bestselling product on online platforms has always been gochujang, but our tteokbokki product line has already become our runner-up within a year," O'Food company representative Justin Park told NBC News. 
He added that tteokbokki has outpaced popular Western snacks at times, with his product and Quaker alternating for first and second bestsellers in the "rice cakes" category at Amazon's Grocery and Gourmet Foods section.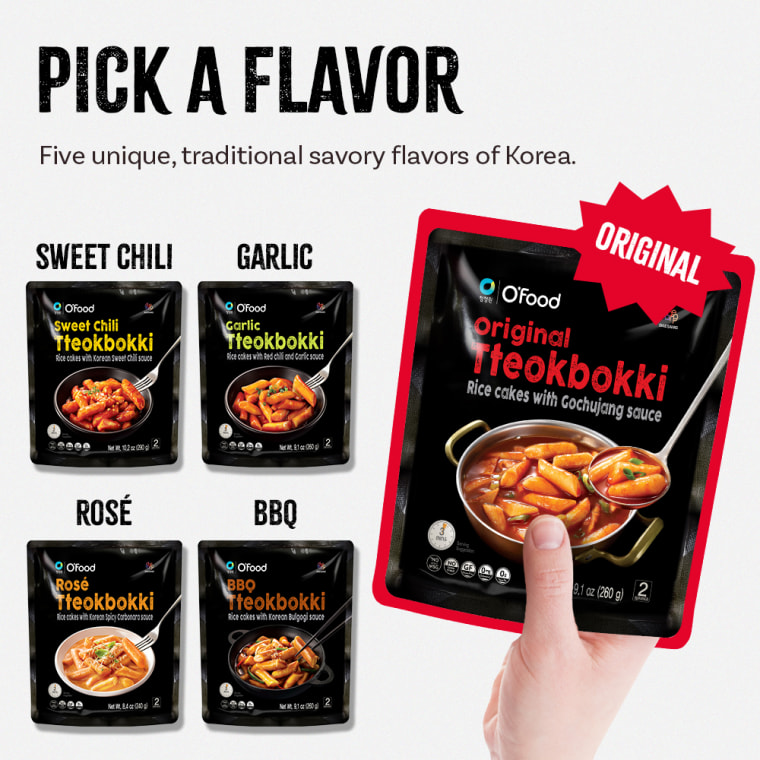 Its sentimental value is not lost among second-generation Korean Americans, even as new clientele discover the comfort food.
"One of my earliest memories is when I was 9 or 10 years old, I was in Korea for the summer, and my cousins took me to a jip (store) right by their house and I just remember crying, so mae-yo (spicy)," said Joanne Lee Molinaro, creator behind the Instagram account The Korean Vegan and cookbook by the same name.
"I think that is a rite of passage that many Korean Americans have. As a result, its popularity kind of exploded. It's certainly exploded in my own blog," Molinaro said. "People would print out that recipe and take it to the Korean grocery store and say, 'I want to make this.'"
Korean food has long been gaining awareness with Western audiences. Bibimbap was an early Goop — and Gwyneth Paltrow's — favorite recipe in 2009. Korean barbeque joints in urban areas regularly command long lines. But the proliferation of Korean entertainment — much of which features critical plot lines hinging on eating (think ram-don in "Parasite") — has helped accelerate interest in dishes beyond Korean fried chicken and K-Bbq. And Netflix has turned Korean food shows and dramas into global sensations.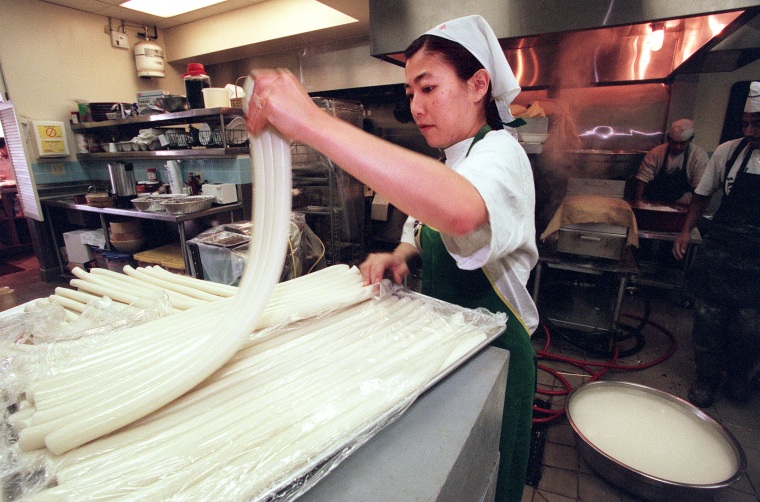 "Recently the boom of Korean music, K-pop, Korean dramas, Korean movies, and anything Korean culture has become a lot more popular and now accepted as something hip and cool and something to try out," said Hooni Kim, the first chef to receive a Michelin star for Korean cuisine. "Somebody who has never tried Korean food but loves BTS and loves the movie 'Parasite,' it's much easier for them to try Korean food."
Kim sells a packaged version of tteokbokki in his premium food store in New York City, Little Banchan Shop. He sources his dduk from the rice cake maker and bakery Yedang, which he swears by. "This is the best place. I've tried every dduk from every purveyor," he said.
Once a delicacy served in royal courts, the tubular rice cakes date back to the Joseon period in Korea, where it was traditionally cooked in a sweet soy sauce and beef. It is thought to be first documented in the 19th century cookbook "Siuijeonseo," though its modern-day form has evolved to be red, sticky and sweet, simmered with hard boiled eggs and fish cakes. That too, however, is changing as new innovations bring new flavors.
In New York City, the restaurant Witch Toppoki is betting on rice cakes' growing appeal by bringing a wider selection to the public. The restaurant opened its first location in Flushing, Queens, in December 2022, and a second in nearby Bayside in February 2023.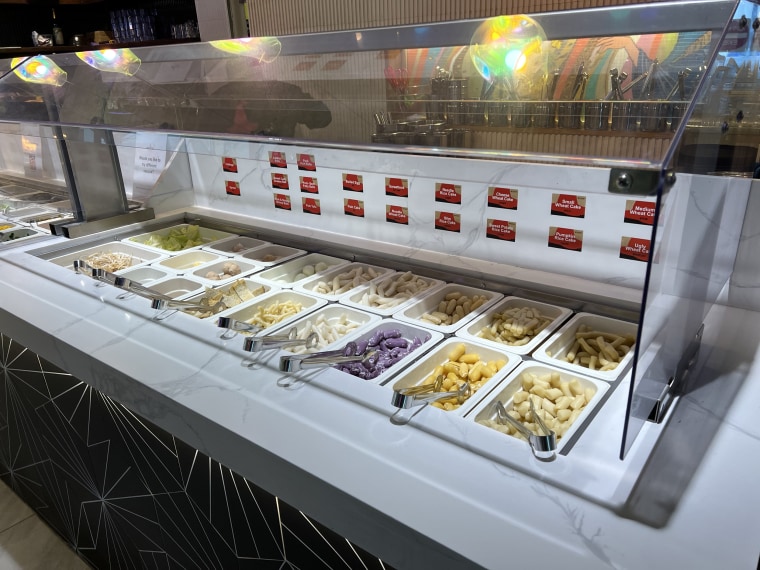 The menu highlights a variety of rice cakes, from sweet potato to wheat to corn, and unconventional sauces like rose and carbonara. Rice cakes are short like gnocchi, medium-sized or long and skinny. Guests select ingredients from the buffet — most produced in Korea, save for the vegetables — and cook tableside.
"I think younger generations really like it, because this is the first concept in the United States," said Jerry Kim, general manager at Witch Toppoki, who said similar concepts already existed in Asia. "There's a lot of all-you-can-eat KBBQ, but [stateside] they never had a spicy rice cake."
The restaurant Yup Dduk, which opened in L.A. in 2015 and specializes in spicy Korean comfort foods, turned the flavors of tteokbokki into the popular hashtag "#Ktownspicychallenge." It dares users to conquer rice cakes smothered in sauces so spicy they deserve a spot on "Hot Ones," like cheongyang pepper, which is 10,000 Scoville heat units, and the even hotter Korean ghost pepper, ttaengcho.
Yup Dduk is originally a franchise restaurant from South Korea whose massive expansion  speaks to tteokbokki's potential across the pond — the franchise has 500 locations worldwide.