What is the recipe for healthy and sustainable food
6 min read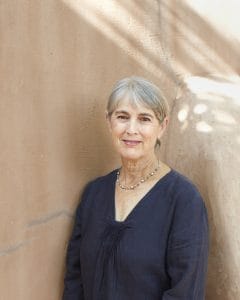 Snowy winds had besieged Santa Fe, New Mexico, while the winter sun shone brightly over the clear blue skies. It was a chilly afternoon when Christine Salem said "we are meeting Deborah Madison for sandwiches and coffee". Can't say I wasn't excited, because this was a chance to meet a legend. A woman who has helped America develop a taste for vegetables. Her numerous cookbooks including bestsellers like Vegetarian Cooking for Everyone, Local Flavours, The Greens Cookbook, etc. have been vital in getting vegetarian food into American kitchens.
We drove to the heart of Santa Fe and sat in the Iconik Cafe, with the Beatles playing in the background. A spinach and cheese sandwich served with hot chocolate aided our conversations. Deborah spoke little but listened very attentively. Over the next hour, we talked of food politics, rural America, the Indian farmers' movement, and much more. It was a lively hour and I wanted to know more about her. And that's where her recently published memoir An Onion in My Pocket, helped.
Growing up in California listening to Alan Watts on the radio, Deborah moved quickly towards Zen Buddhism and started living at Tassajara monastery. Her experiments with food also began here. From cooking for Zen students & monastery guests to working at Chez Panisse and then creating Greens (one of the first vegetarian restaurants) in San Francisco, she has had a full life chasing after vegetables.
In the '60s – '70s, vegetarian food and meals were a new concept, common vegetarian fads like tofu, goat cheese, avocado, etc were hardly known. Farmers' markets were hardly alive. Over time Deborah worked hard with farmers and eaters to create vegetarian menus suited to the American palate.
She is a self-described "recovering Buddhist" and an "omnivore". Her memoir is best described by the San Francisco Chronicle as "a history of America's culinary coming-of-age".
I quickly read through her memoirs and wanted another meeting. This time from the other side of the world.
In Deborah's kitchen
When the screen turned on, Deborah was in dark blue, standing in her adobe kitchen. I asked her for a glimpse of her cabinets and spices before the interview began. Deborah smiled and gave me a sneak peek. And then I asked her about her last meal, and if she had any onions in her pocket?
She laughed a little and said, "Last night we had a squash soup with beans and sage bread crumbs, grilled cheese sandwiches, a red leaf salad with avocados and cashews, and a blueberry tart for dessert.  Also, various pickles that CC (her friend) brought.  We either have baked potatoes or grilled cheese on Friday nights. As for onions in my pocket, nope. There aren't any."
Deborah, now over 75, tries to cook "at least every day" and because of her health, keeps the menu simple. But that doesn't mean her passion for cooking has diminished. I asked her about the new flavours in her life, "I am now in love with baking sourdough breads and nixtamalized corn," she said.
"But I do live in the country, it's now winter, and the pandemic is still here. I cook from my own books but now is not a time for new favourites," she added.
As an omnivore, how did she imagine food ethics, and if she thought there was a conscious meal? "I think it has to be if you are a conscious person?  I do naturally swing towards vegetarian food, but my husband grew up eating lots of meat. So, I naturally try to cook for him.  I know that I also feel and do better with some meat, but I always want to be sure that it is grass-fed and grass-finished (and for Patrick, too) and not from a feedlot or CAFO. It's more expensive, but it's what I believe in," she said.
For the right diet and nourishing meals, Deborah had an interesting answer, "I'm pretty sure that the right diet varies from person to person, as does a nourishing meal. It has to do with what you grew up with. If you were raised on fast food, then that is nourishing; if you weren't, it isn't. It's that simple."
Now it was time to retrospect, so I took our conversation towards her grandmother's generation. How different was their food, health, vulnerability to illness, etc? "In some ways, the food of older generations was better and there were fewer illnesses then—like obesity, heart disease and diabetes. Especially in the meat department. But the vegetables were probably not as strong and good as they are now.  I know that there was very little choice until fairly recently.  Maybe there were two kinds of apples or lettuce, no radicchio or other chicories, but parsnips and carrots (available).  It's not that great today if you are a gardener and read catalogues and know what's what; we are gradually losing what ground we gained," she remarked.
It seems vegetarianism has come a long way since the 60s, but how was it when they started Greens? "It's day and night!  It's here now in a way that it wasn't when Greens started.  I'm somewhat embarrassed to think that I used to put cheese in dishes where it wasn't called for because I wanted our customers to feel satisfied.  Today, there is a preference for lighter vegetarian food which I'm happy to see. And whole grains have become popular too," she told me.
Next up was food politics and how food fundamentalists are vilifying meats. The call to boycott meat hurts regenerative small farmers the most. And I asked her if supporting regenerative meat farmers is ethically wrong? Her answer was stern, "No. The earth needs the animals too." But why can't people see the difference between factory farms and regeneratively grown meats? "Cost is one reason. And laziness of thought. We've become used to meat as a cheap and fast way to get a meal on the table.  We don't eat offal or cuts that take a long time to cook. We like steaks and chops because they are fast.  Also, people today in America are so removed from the farm that they no longer see a package of chops as coming from an animal," Deborah explained.
From Tofu to avocado, Deborah had seen the rise and fall of various vegetarian trends in the US. But a new trend – the corporatisation of the vegan dollar, was the most alarming. Today, huge organic supermarkets have a monopoly on the organic produce sold to regular Americans, what did Deborah think of this change?  "Indra – the vegan dollar," she paused and looked at me and said, "That's a complex question."
She then continued, "the corporate take-over is real and scary, but farmers' markets are still abound.  As do small farms.  But we need to be more involved with the political process — all of us who care. Also, California can't do it all.  We need to become more local across this vast nation. And we need to stop expecting to have everything all the time. There are seasons, after all."
Time to shift gears and we discussed her books, tours, cooking classes and other efforts to make vegetarianism popular, she humbly said, "It was okay.  I have never thought of myself as making vegetarian food trendy and chic.  People have gone far beyond me in those terms. Maybe I helped get it started, but that's all."
For me, in India, it was way past dinner, and it was almost lunch time for her. I asked her for tips, if any, for future cooks and cookbook writers. "Try to be honest in what you say and do as regards your cooking.  It's very hard work, as you probably know.  You might as well do it right. And as for cookbook makers, the same! Plus, don't be put off by companies that say you have to have a strong presence on social media. If you have an original thought they will overlook that," Deborah said.
The author is an independent agri-policy analyst and former director – Policy and Outreach, National Seed Association of India. He tweets at @Indrassingh. Views are personal.
Read all the Latest News, Trending News, Cricket News, Bollywood News,
India News and Entertainment News here. Follow us on Facebook, Twitter and Instagram.