Torr Industries Rolls Out a Suite of Cold Brew Production EquipmentDaily Coffee News by Roast Magazine
3 min read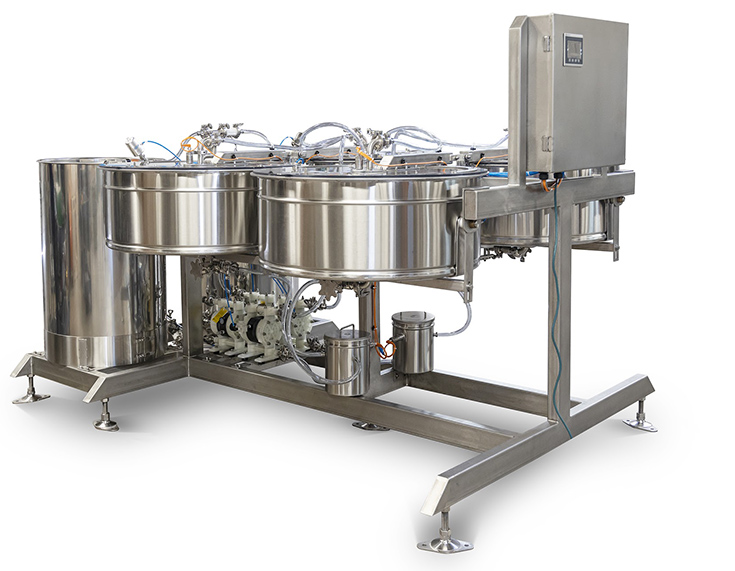 California-based industrial beverage solutions provider Torr Industries (stylized by the brand as TORR) has significantly expanded its reach into coffee with the launch of three new cold brew coffee-making systems.
Designed in collaboration with cold brew consultant and adviser Randy Anderson, the new systems — called the Brew50, TwinBrew and Quadbrew — are built to accommodate small-, medium- and large-volume operations, respectively.
All three machines brew full batches of cold brew in well under two hours, according to the company. The Twinbrew and Quadbrew do so using a proprietary system involving an array of nozzles gently sending water over a dispersion plate for even saturation of the coffee bed, allowing for the relatively fast and thorough extraction without agitation.
The Twinbrew and Quadbrew feature automated warm and hot-water preinfusion options, water flow monitoring and control, recipe storage and more via Allen‑Bradley PLCs and touchscreen interfaces. Both also feature pneumatic lift systems that tilt their brew chambers by 90 degrees for emptying and cleaning.
The Twinbrew brews as much as 600 gallons a day and the Quadbrew, which occupies a physical space of roughly 100 square feet, brews up to 1,200 gallons per day in its current configuration, according to the company.
Designed for lower-volume applications and tighter production spaces, the vertically oriented Brew50 is designed to brew 15 gallons of concentrate in about 25 minutes within a small physical footprint. The company said the Brew50's concentrate is approximately twice as concentrated as standard immersion brew concentrates, requiring a water-to-coffee dilution ratio of 3:1.
"The little Brew50 is wonderful for people that have a very small footprint," Anderson told DCN. "It could be back of the house to the coffee shop; it could be a small to medium roastery."
---
Related Reading
---
By the time the Specialty Coffee Expo takes place in New Orleans, the company hopes to  also to be showing off the Torrnado (stylized by the company as TORRnado), a post-dispense nitrogen system that adds nitro to any individual beverage on demand.
As opposed to an inline tap nitrogen system, the Torrnado is designed to add nitrogen to individual beverages that are inserted into a container for nitrogen on demand.
Said Anderson, "It offers people the ability to have as many different nitro drinks on their menu as they want, and they don't have to worry about changing out a keg or a bag-in-box or anything."
All Torr Industries systems are designed and manufactured by the company at its 25,000-square-foot facility in Redding, California, where the company also produces an array of beverage filling, packaging and dispensing systems.
The first Brew50 was sold about five months ago, according to Anderson, while the first Quadbrew was recently installed in Arizona.
All three cold brew systems are available for purchase directly from Torr Industries, with the Brew50 at $7,800, the Twinbrew at $75,000 and the Quadbrew at $125,000.
Howard Bryman
Howard Bryman is the associate editor of Daily Coffee News by Roast Magazine. He is based in Portland, Oregon.