This Cheesy Snack Is TikTok's Latest Obsession
3 min read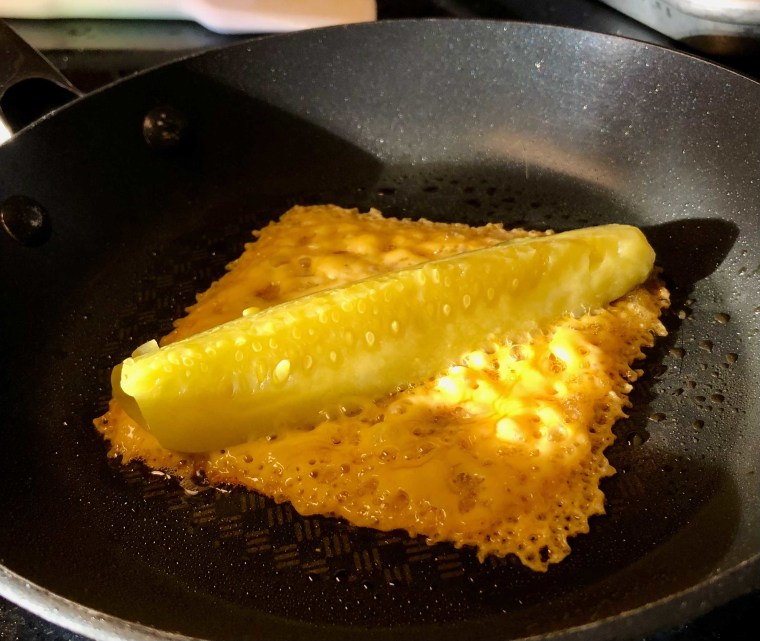 The creator of the latest TikTok food trend doesn't know what to call it, but the commenters sure do.
"Pickle in a blanket: A Picklet!"
"A chickle!"
"I call it, 'I'm making this immediately.'"
In the viral TikTok about her self-described "guilty pleasure" of a pickle wrapped in fried cheese, Claire Snyder (@clurmurr on TikTok) says that though her husband thinks it's "gross," she's posting because she's sure her fellow pickle people are out there.
And she was right. Her video has over 12.7 million views, 1.6 million likes and almost 50,000 comments, most of them complimentary. She sprays a pan with oil, fries a slice of provolone until it melts, tops it with a dill pickle spear and folds the crispy, browned cheese around it like a toasty quilt. "You hear that crunch?" she says, around a mouthful of pickle and provolone. "I don't care if anyone says this is gross. It's amazing."
I caught up with Snyder, and she told me she's surprised at the degree to which her simple snack has "uncovered a large group of people who share a lot of love for pickles," some as far away as the U.K. It's apparent this is an idea whose time has come, based as it is on near-universally beloved flavors and similar guilty pleasures.  "Mine is Swiss cheese and dill pickles but never have fried the cheese! Genius!" one person commented on her original video. Others suggest trying cheddar or dipping in ranch.
Snyder says she came up with this treat by using what she had on hand after seeing a similar keto fried pickle "chaffle" recipe that subbed cheese for breading. There's a peck of pickled variations on that theme on social media. Feel Good Foodie's Yumna Jawad has a cheese and pickle chip that's baked in a mini-muffin tin, while TikToker @beccahhh24 puts shredded cheese and pickle slices in a mini-waffle maker.
Still, it's Snyder's dill spear that hits the spot lately. Even artisan pickle experts Grillo's Pickles got into the act with a giant two-slice, dill-garnished and extra-crispy doozy.
I couldn't resist trying it for myself, so I dragged out every pickle and cheese in the fridge to see what tickled our pickled fancy.
Some cheeses were easier to work with than others; I recommend more aged cheeses with medium-fat content. Using a nonstick skillet is critical, too. Just spray or brush the pan with oil, and add a slice of cheese, melting it over medium heat. Top with your pickle of choice, and when the edges start to turn golden brown and crispy, fold the sides over the middle with rubber spatula. Patience is a virtue; it'll take at least five minutes, and often more. When it's done, let it drain for a few seconds on a paper towel, and serve warm.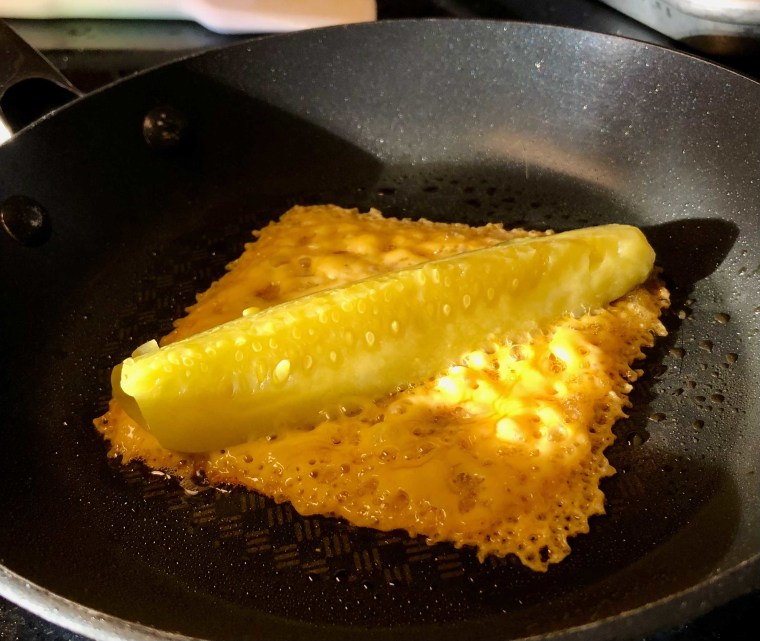 Taking a cue out of Snyder's improv book, I tried cheddar and candied jalapeño; habanero cheddar with bread and butter slices; Carolina reaper Jack and sweet gherkins; mozzarella and kimchi; marinated artichoke and Gruyère; pickled red onion and smoked Gouda; and mozzarella and pepperoni with tomato chutney. I also tried a four-ingredient twist with Swiss, half a smoked sausage link and cream cheese mixed with pickle relish. They were all decadently delish — crunchy, salty, pleasantly greasy and like nothing I'd ever tried before.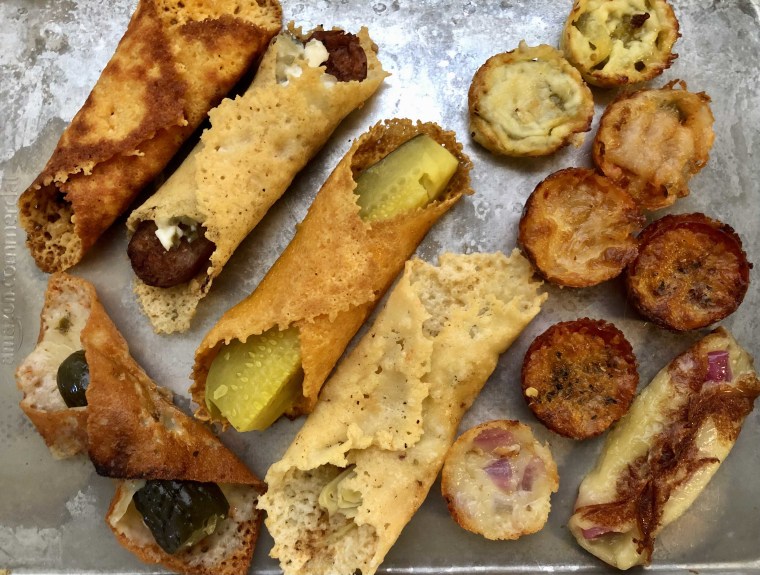 Our recommendation for the best pairings? The Gruyère-artichoke is a sophisticated pick, and the sausage, relish and Swiss is the most savory and substantial. But, if you really want to wow your guests or wake up your own palate, don't fear the reaper (and gherkin).
Wash your hands before you rub your eyes, though.