The JoGo Coffee Straw Causes a Stir On KickstarterDaily Coffee News by Roast Magazine
2 min read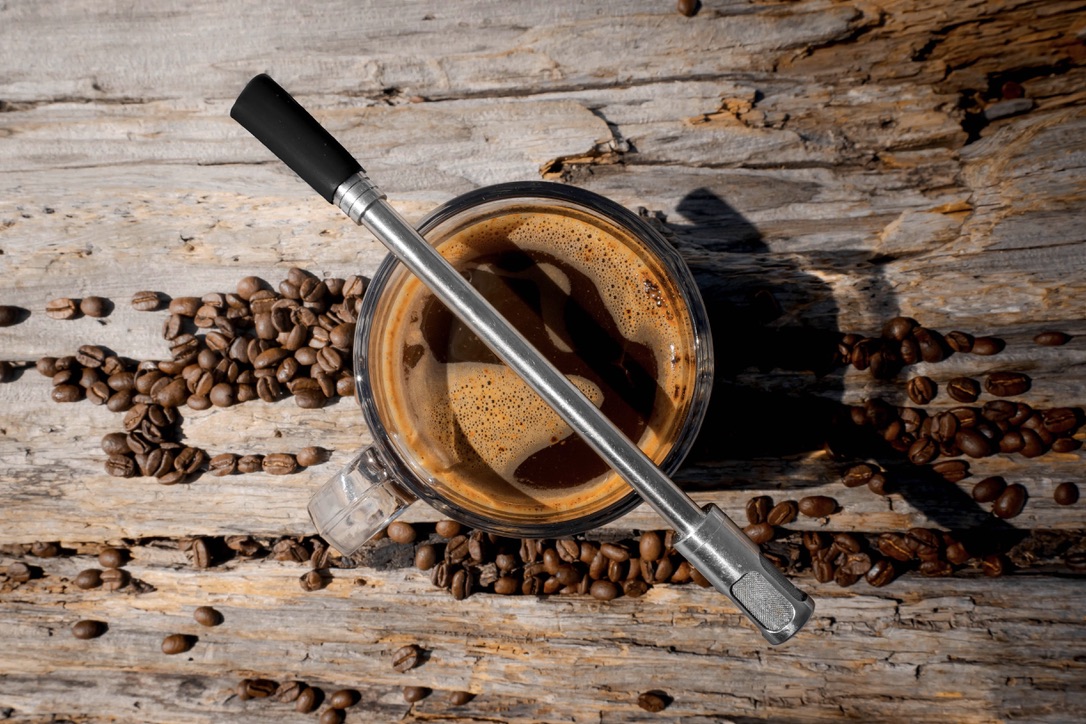 A new coffee equipment brand called JoGo seeks to be the last straw in on-the-go coffee consumption, offering a literal straw with steel mesh filter at the end for drinking immersion-brewed coffee straight through the slurry.
Inspired by the traditional bombilla used in Latin American cultures to simultaneously sip and strain mate tea, the JoGo is a stainless steel straw with a silicone mouthpiece and a filter at the bottom designed specifically for consuming coffee, although the company suggests it could also be used for loose-leaf tea, pulpy juice, chunky cocktails or other crowded beverages.
A Kickstarter campaign to support production of the JoGo reached its funding goal of $10,000 in less than an hour and has eclipsed $60,000 as of this writing.
"We are truly blown away by the success of our launch so far, and are filled with gratitude for everyone who has helped make this dream of ours a reality," Chicago-based JoGo Co-Founder Nicholas Yehle told Daily Coffee News.
Yehle said the mesh of the filter is designed to catch grinds in the medium to coarse range. Users simply add hot water to coffee, stir with the JoGo and start sipping through the food-grade silicone mouthpiece any time. Because the coffee remains in contact with the water throughout the process, there is of course a finite window of time to drink the coffee at its optimal balance of flavor, and the brew will continue to evolve as time goes on.
"The ideal window [of time in which to drink the coffee] is dependent on the type of roast being used, temperature of water, proportions of grounds to water, and individual preference," Yehle said of the method. "We appreciate the simplicity that JoGo brings to the brewing process, and how it allows you to experience the journey of the bean's flavor profile, from beginning to end."
After an expected delivery to backers in September 2021, the JoGo will launch through online sales for approximately $30 per unit, according to the company.
Howard Bryman
Howard Bryman is the associate editor of Daily Coffee News by Roast Magazine. He is based in Portland, Oregon.