Tart, savory and sunny: Here are Salon Food's top 5 lemon recipes to welcome spring
5 min read
If there's one piece of cooking advice that I can give to everyone, it's this: Never underestimate the power of the lowly lemon. 
Known as nature's most versatile fruit, lemons take the center stage in countless sweet and savory dishes. There's classic lemon bars, which are made from a lemony brown butter shortbread crust topped with confectioners' sugar. There's lemon meringue pie, which has been described as "the lemon recipe of all lemon recipes" by Food52's Kelly Vaughan. There's also asparagus with lemon-pepper marinade — a recipe courtesy of Bryant Terry — and spaghetti pasta with lemon-parmigiano sauce (you can never go wrong with adding lemon zest in your pasta!).
Of course, we can't appreciate lemons without mentioning the cocktails. A few honorable mentions include the candy-inspired Lemon Drop Martini, the simple Vodka Sidecar, the classic and straightforward Lemon Lavender Gin Rickey and the sunny Limoncello e Pepe.
There's truly no shortage of lemon recipes to try and enjoy. That's why Salon Food went ahead and compiled a list of the top five lemon recipes you have to try this spring.
---
Want more great food writing and recipes? Subscribe to Salon Food's newsletter, The Bite.
---
When life gives you lemons, slice them, juice them, zest them and enjoy!
Rosemary Shortbread Cookies (Getty Images / Julie Vinogradov / 500px)
These Italian-inspired cookies from columnist Bibi Hutchings are infused with fresh lemon zest and rosemary, making them the perfect treat to enjoy on a beautiful sunny day.
To start, combine flour, cornmeal, rosemary and salt in a bowl. Then beat a mixture of butter, sugar, egg, lemon zest, lemon juice (optional) and vanilla until light and fluffy. Stir in the flour mixture and beat before shaping the dough into a 1 1/2″ diameter log and storing it in the refrigerator. Slice the dough into 1/4″ cookies and place on a cookie sheet. Bake the cookies at 350 degrees for 15 minutes or until they're a light golden color on the edges.
As Hutchings wrote, "Fresh lemon and rosemary paired together not only tastes great but smells intoxicating. When you bake these cookies, the beautiful fragrance that permeates your home is better than anything I've ever diffused from DoTerra or Young Living."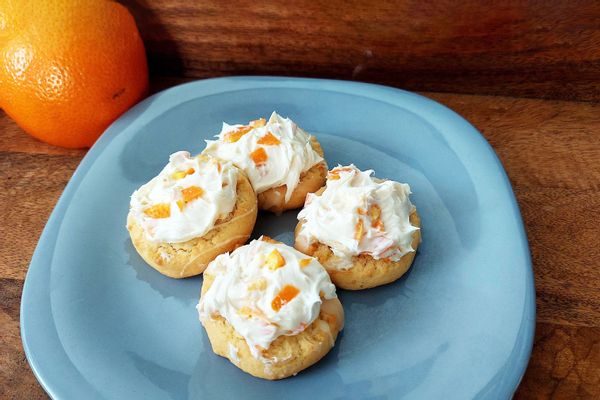 Citrus cooler cookies (Ashlie Stevens)
Another sweet recipe from Hutchings is the lemony citrus cooler cookies, which flaunt the strong flavors of lemons (preferably Meyer lemons) and satsuma oranges (navel oranges also work!).
These cookies call for both the juice and peel of one orange and one small lemon. The mixture is then beaten with butter, sugar, flour, soda and salt to make a compact dough. To shape the cookies, gently flatten the small balls of dough with your fingers or the back of a wet spoon. Bake the cookies for 10 to 12 minutes at 350 degrees or until golden. Once finished and cooled, top them with a lemon-orange-flavored icing.
Per Hutchings, these cookies are just the thing for the transition from warmer to cooler weather. But, they are also great for the opposite as we go from the cold temperatures of winter to the warm temperatures of spring.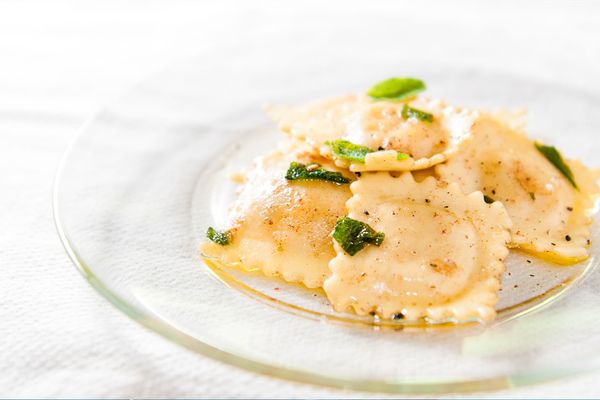 Cheese Ravioli in Brown Butter Sage Sauce (Getty Images/JacobVanHouten)
This super-quick pasta dish from Salon's Michael La Corte is the perfect meal to enjoy on weeknights. It's also incredibly delectable and comforting. Take it from La Corte, who wrote, "Anchored by brown butter, this recipe soars, taking those standard yet reliable components to new heights by not only gussying up the ingredient list but also adding a bit more time and heat." 
The first step is to prepare the bucatini by boiling a large pot of water and adding a sprinkle of salt. In a large pan or skillet, make the brown butter sauce by melting one stick of high-quality, unsalted butter and swirling it until it's nice and toasty. Add garlic, Better than Bouillon, a cup of water and the starchy pasta water and cook over low heat. Then add heavy cream, lemon juice and lemon zest and cook until the sauce beautifully coats the back of a spoon. Add spinach and drained pasta to the finished brown butter sauce. Toss well and cook for about a minute before serving the pasta with chopped hazelnuts, lemon zest, chives and grated cheese.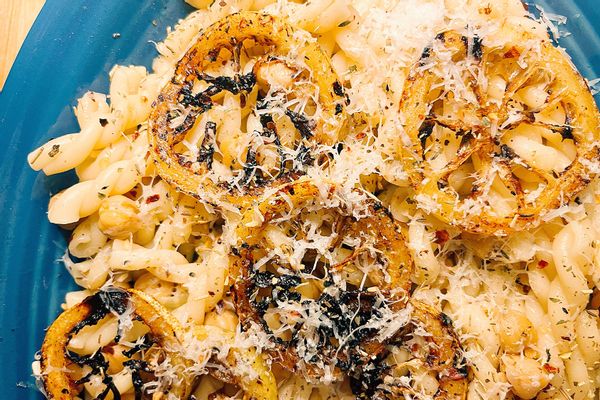 Chickpea Pasta (MAry Elizabeth Williams)
Cookbook author, food writer and influencer Andy Baraghani knows that lemons are a star in numerous delicious dishes. That's why he came up with a recipe for caramelized lemon cacio e pepe. This isn't your traditional cacio e pepe — which typically calls for just pasta, grana padano, starchy pasta water and black pepper. Baraghani's recipe takes the classic pasta dish a step further by incorporating lemons, chickpeas and plenty of Parmesan cheese.
To start, prepare a pound of your favorite pasta (spaghetti, linguine, bucatini . . . you name it!). In a large pot or Dutch oven, sauté the slices of one small lemon in olive oil. Once the lemons are lightly browned, transfer them to your serving bowl and add the chickpeas into the oil and cook. Add garlic, salt and lots of pepper and stir well. Then add starchy pasta water to the chickpeas mixture and stir in the butter. Transfer the pasta to the sauce and cook, slowly adding Parmesan cheese. Turn off the heat, stir in the caramelized lemon slices, serve and enjoy!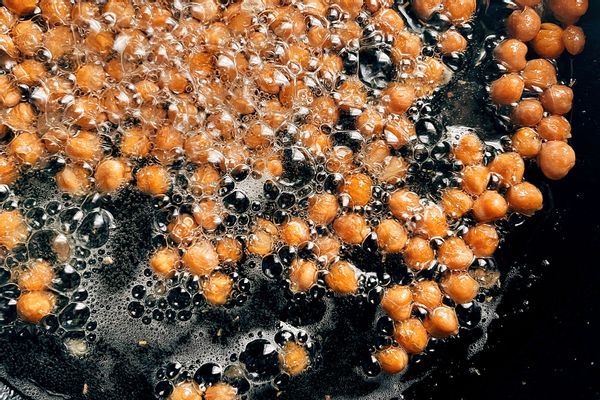 Fried Chickpeas (Mary Elizabeth Williams)
Mary Elizabeth Williams' recipe for a summer snack is simple, satisfying and addicting. Inspired by Baraghani's "The Cook You Want to Be: Everyday Recipes to Impress" and food blog "Appetizer Addiction," Williams' homemade recipe can also be enjoyed as a side dish or a light supper. 
First, heat 1⁄4 cup of vegetable oil in a large pan or skillet before adding one 15-ounce can of drained and dried chickpeas. Cook the chickpeas for about 10 minutes or until they are browned and started to pop. Then add garlic and the slices of one small lemon and stir. Remove the chickpeas from the heat and top with salt and pepper. Enjoy them while they are still hot and crispy! 
Williams can attest that these chickpeas are "enthusiastically welcomed by guests, but also that they're far too good to save for only when guests are around." 
"So, go ahead and make them — even if just for yourself — and toast the achievement of getting though another long day."
Read more
about spring recipes: