Seek Coffee Finds Itself in New Haven, MissouriDaily Coffee News by Roast Magazine
3 min read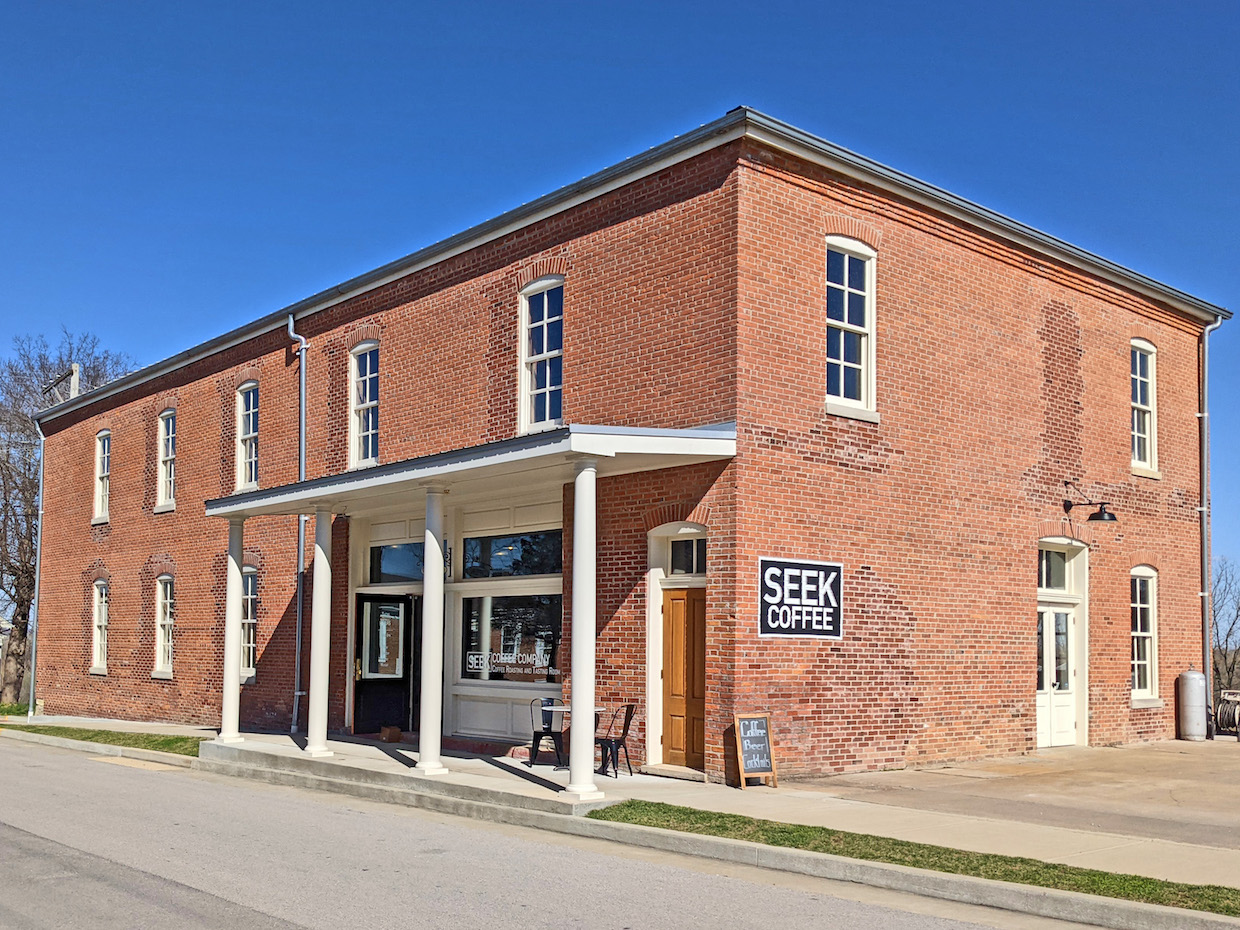 Near the banks of the Missouri River straight west from St. Louis, coffee startup Seek Coffee has opened a roastery cafe for anyone on the hunt for high-quality coffee.
Based in New Haven, the business is co-owned by spouses Craig and Katie Borcherding along with Katie's brother John Aichholz and his wife Nataliya Aichholz.
Seek opened in a 125-year-old building that has played several important community roles over generations, having served as a general store, an opera house and a hat factory. Prior to Seek's occupation, the building sat empty for two decades.
"We wanted to maintain an industrial feel to what is still mostly a production space for our roastery," Craig Borcherding, who helms a Coffee Crafters Artisan XE fluid bed roaster in the back of the shop, recently told DCN.
During a buildout of the 1,100-square foot space that took several months longer than anticipated due to pandemic-related delays, the company brought in a local fabricator for original metalwork for pieces like the steel bar front. Woodworking, including fashioning the new bar top, was done in house, and the building's long-standing brick was maintained.
The business has also adjusted its plans due to the pandemic times, including concentrating more on direct-to-consumer online sales and adding a liquor license to diversify offerings in the shop.
"As a small roaster, we're also shifting from a model tailored to wholesale that originally included four or five staple origins to a model more suited to direct sales, with small runs of five or six rotating coffees," said Borcherding. "This has been driven by customer feedback and shipping and availability concerns in the greater coffee world."
The shop has initially focused entirely on drip and manual brews, although customer feedback has convinced the Seek team to launch an espresso program, likely coming in May with the addition of a Decent espresso machine.
Borcherding roasts green coffees primarily sourced through Genuine Origin and Cafe Imports that are sold as whole beans or brewed in the shop.
"We try to play to the beans' obvious strengths, but we'll also cup the coffee a few degrees lighter or darker to see how it might fit into our lineup," said Borcherding. "We try to educate our customers on roast character versus bean character, and we'll often compare two coffees, roasted at City and then again at Full City+, and then discuss why one coffee works well at a given roast and why the other is maybe less 'appropriate.'"
Seek has been attempting to engage with the community through popular beginner's cupping classes, and Borcherding said more educational programming is in the works.
"Many of the people who have taken that class have expressed an interest in doing more thorough discussions on certain topics," said Borcherding. "Next month we're adding more intermediate classes, starting with a class on water chemistry."
Seek Coffee is open now at 1018 Maupin Ave. in New Haven, Missouri.
Related Reading
Howard Bryman
Howard Bryman is the associate editor of Daily Coffee News by Roast Magazine. He is based in Portland, Oregon.