San Diego's Holsem Coffee Offers a Whole New Take on Instant CoffeeDaily Coffee News by Roast Magazine
4 min read
Homegrown North Park, San Diego coffee roaster and retailer Holsem Coffee has unveiled a sweeping rebranding along with a novel line of "instant latte" mixes.
In bright new bags, Holsem's just-add-water latte mixes pair the convenience of instant with all-natural ingredients like freeze-dried fruits, natural spices and maple syrup as the only sweetener. The dry mixes are produced in San Diego through an undisclosed proprietary process.
Holsem's instant latte line adds to the rapidly expanding "instant specialty" market. A decade ago, those two words may have been incompatible, but the specialty instant category has been developed by business-to-business companies like Swift Coffee, Sudden Coffee and Voila (although the latter two are now out of business).
More recently, specialty instant coffee or "instant espresso" has come by way of new brands such as Waka Coffee, House of Word or Coracle Coffee, as well as by established Third Wave brands such as Blue Bottle and Intelligentsia.
Holsem, meanwhile, brings a new approach to the category with a focus on additional complementary flavors and a commitment to healthy ingredients.
"That was always our foundation for Holsem, to celebrate coffee and celebrate flavor and pair with whole ingredients and kind of perfect those flavor profiles," Holsem Co-Founder Muna Farhat, one of two women behind the coffee business, recently told DCN.
Farhat and Holsem Co-Founder and roaster Salpi Sleiman are not new to the high-end coffee scene, having developed a working relationship over coffee more than a decade ago.
"I was coming here and visiting [Sleiman] and I would hang out at her coffee cart," Farhat said. "I just loved what she was doing with fresh ingredients, fresh mint, fresh spices. This was maybe 10 years ago. That wasn't the norm." 
Up to then, Farhat had been generally disappointed by the flavored coffee options on the market, like the pumpkin spice latte, which typically comes loaded with sugar. Thus, she found something more wholesome working with Sleiman.
"I could enjoy the fun flavor without the cost to my body," Farhat said. "It was tastier because the ingredients were pure, so potent… We teamed up from there and created Holsem."
The two have operated a brick-and-mortar coffee shop and roastery ever since, while the new instant latte line represents the first major online direct-to-consumer venture. Packaging for the new line was created by Fuseproject, the California firm created by renowned Swiss-American designer Yves Behar.
"When we launched, there was much more focus on the coffee element and the seriousness of the craftsmanship," Farhat told DCN. "You can see in our branding, as the years have passed, we realized how we want to be more approachable and playful. We felt coffee is playful; it's really fun. And we really wanted that to come out and for customers to be able to celebrate and have fun with it."
Farhat said that coffees for the Holsem latte line reflect the companies ongoing sourcing strategy towards high-quality traceable arabica coffees with distinct flavor profiles that are protected by Salpi at the roaster.
However, the company's ingredients sourcing now extends well beyond coffee, adding to the challenges of maintaining ideal and consistent flavors in the cup.
Said Farhat, "Sourcing for the blueberry maple, there was a vast difference in how blueberry would taste based on where it was grown."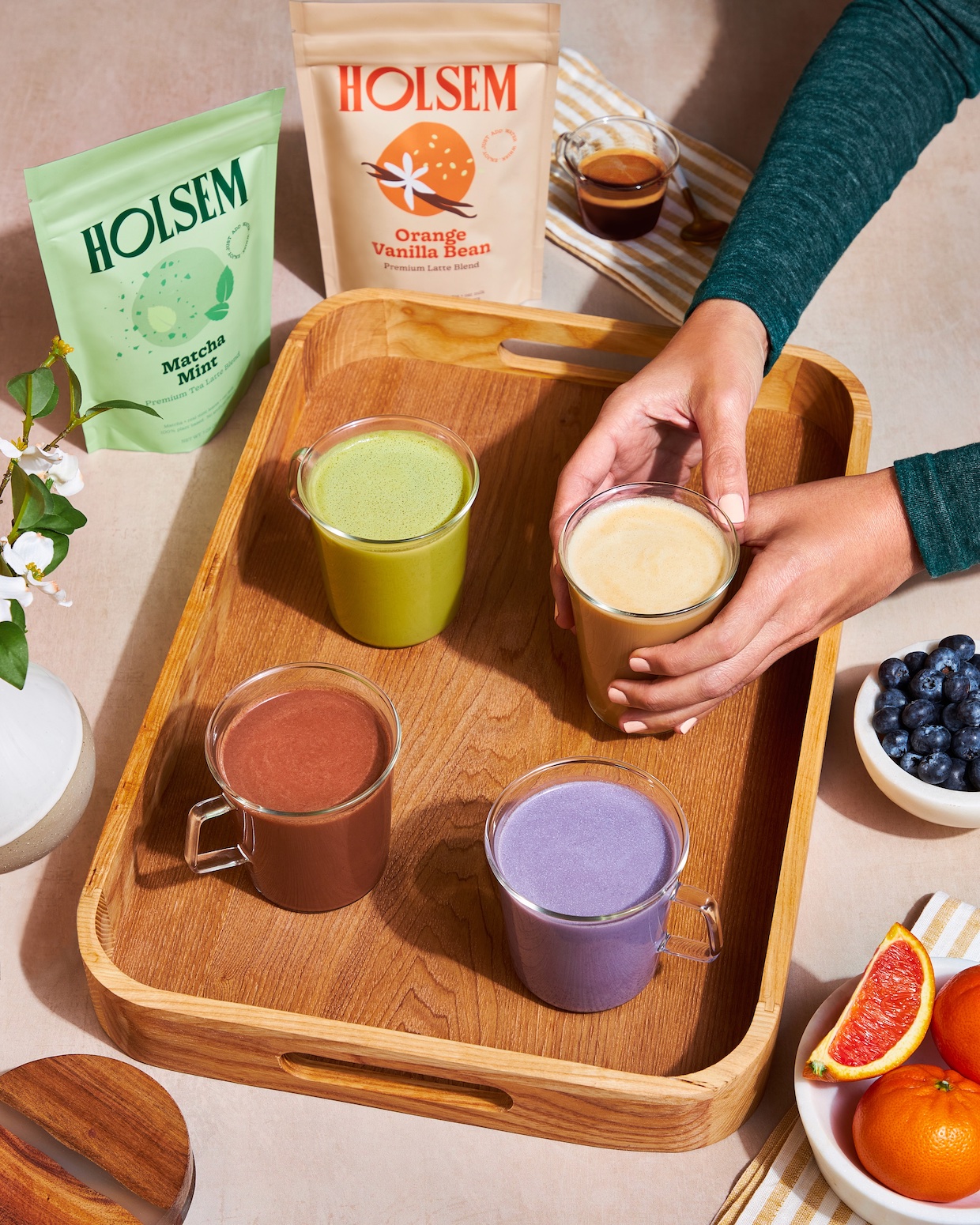 Flavors for the instant latte mix rollout include banana bread, blueberry maple, chocolate peanut butter, orange vanilla bean, matcha mint and a seasonal offering, currently pumpkin spice. The banana bread mix, for example, is made with organic oat milk, pure maple syrup, freeze dried bananas, instant coffee, cashews, cinnamon and 100% coconut MCT oil, with no other ingredients or additives.
Customers can purchase five servings for $14 or choose subscription-based pricing.
"For consumers, we want it to be considered a treat… to be a treat, but to be better for you," she said. "And for the coffee industry, we wanted to change the perception of flavored coffee by improving the quality of ingredients that the coffee is paired with. It's hard to incorporate whole ingredients into coffee. Essences, oils, and artificial flavors are usually what's used. It really does degrade the coffee… It can all be high quality; the profiles can pair together. There is a way to do it that doesn't degrade the coffee."
---
The Holsem Coffee shop is located at 2911 University Ave. in San Diego. Tell DCN's editors about your new coffee shop or roastery here. 
More From DCN
Libby Allnatt
Libby Allnatt is a writer with a passion for trying new coffee shops. She lives in Salt Lake City, Utah.