Sabai: Pailin Chongchitnant's recipe for relaxed home cooking
8 min read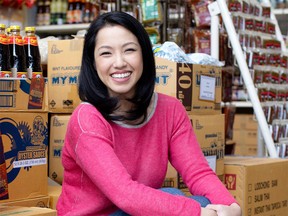 'From prepping to cooking to eating, everything is sabai-sabai'
Get the latest from Laura Brehaut straight to your inbox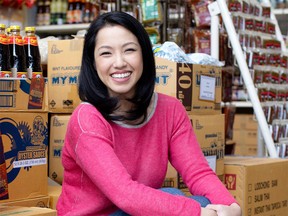 Reviews and recommendations are unbiased and products are independently selected. Postmedia may earn an affiliate commission from purchases made through links on this page.
Article content
Our cookbook of the week is Sabai: 100 Simple Thai Recipes for Any Day of the Week by Pailin Chongchitnant. To try a recipe from the book, check out: old-school pad gaprao, salad rolls with spicy garlicky dip, and minimalist pad thai.
Article content
"Sabai is a word Thai people live by," says Vancouver-based author Pailin Chongchitnant. "If you've ever been to Thailand and hung out with Thai people, you'll realize that we don't like to rush. We like to chill out and hang out. We like to live life sabai-sabai, as we say. I love this word because it means comfortable. It means easy and chill and relaxed, and it can be applied to so many situations."
In the context of furniture, a cosy chair or couch could be sabai. Used to describe your mental state, it means you're completely at ease, not worried about a thing. Chongchitnant chose the word as the title for her second cookbook, Sabai (Appetite by Random House, 2023), because it illustrates the process of making each of the 100 recipes: "From prepping to cooking to eating, everything is sabai-sabai."
Article content
Chongchitnant has featured many simple recipes on her YouTube channel, Pailin's Kitchen, which has more than 1.7 million subscribers, and website, Hot Thai Kitchen, but her audience has to look for them. She wanted to create a self-contained collection of recipes that have been "pre-screened for simplicity." A book where readers can flip to any page and find a dish that's doable on a weeknight.
In her cookbook debut, Hot Thai Kitchen (2016), Chongchitnant taught the foundations of Thai cooking. She considers it "more of a textbook on Thai cuisine than anything." When developing the recipes, she chose dishes she felt were essential to reference. Whether they were fast or easy wasn't top of mind.
"I just wanted it to be as real as possible, and then I became a mom and priorities changed. I realized that I was missing a resource for people who wanted to cook Thai food but needed to do it in a simple way."
Article content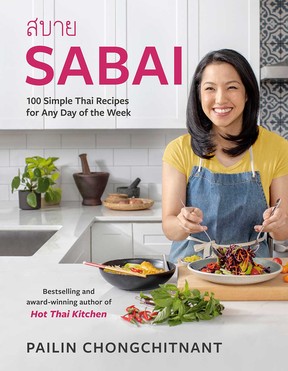 Chongchitnant wasn't in a rush to write a second cookbook after she published Hot Thai Kitchen. Plenty of ideas came and went in the past seven years. But after she had her son, Kaan, in 2019, the concept of simple Thai cooking stuck. "He's four now, so it took a while," says Chongchitnant, laughing.
Since she started her YouTube channel in 2009, Chongchitnant has wanted people to gain two things from her Thai cooking lessons: to experience the flavours she grew up with in southern Thailand; and to understand that they don't need time for project cooking — they can cook Thai food whenever (and however often) they like.
Though her goals haven't changed over the years, her approach has. "When I first started, I was all gung-ho about showing you the dish exactly as how it would be in Thailand. I was really hung up on quote-unquote authenticity, and I wanted it to be like, 'No one can tell me that this isn't real Thai food.' But over the years, I have relaxed on that a bit."
Article content
She embraces ingredients that she has access to in Vancouver, and alternative methods or shortcuts to make home cooking easier. "Now I'm a lot more considerate of the circumstances and less uptight about making sure this is real Thai food. But the one line that I will not cross is the flavour line. Sure, we can change some things around and accommodate ingredients and methods and things like that, but it still has to taste like something you would get in Thailand."
Over the years, Chongchitnant has received many emails from viewers saying they felt intimidated to cook Thai food before watching her videos. She attributes much of this intimidation to unfamiliarity with ingredients, which is why she went to great lengths to explain them in both books.
Article content
The more people cook Thai food, the more their shopping list shrinks, she says. The first few dishes may seem daunting but once their pantry is stocked, it becomes progressively easier. To this end, Chongchitnant features an extensive "Basic Thai Pantry" section in Sabai, which she concludes with a list of the minimum Thai pantry and freezer items, and an ingredient substitution guide.
Cook This: Three recipes from Sabai, including minimalist pad thai

My Thali: Ottawa chef Joe Thottungal's meals of many parts
She also has a map on her website designed to help "get people over that ingredient hurdle": Find an Asian Grocer. People from all over the world have added their go-to grocery stores for Thai ingredients. And while supermarkets such as T&T have a great selection, Chongchitnant encourages people to not underestimate mom-and-pop Asian grocery stores.
Article content
"Sometimes they have the most difficult-to-find stuff. In Vancouver, whenever I need specifically Thai ingredients, there's one store that I go to on Kingsway. And you would not even notice it from the street, it's so hole-in-the-wall, but they have everything. And it's kind of like insiders-only knowledge that this is where you go, but they're on my map."
People from outside the culture often assume Thai cooking is more complicated than it is, she adds, because they equate it with the dishes served at restaurants, food stalls and carts. As with any cuisine, the difference between restaurant food and home cooking is vast. Some Thai dishes are complicated, says Chongchitnant, but the weeknight-friendly recipes she features in Sabai are not.
Article content
Take one of Sabai's especially easy recipes, garlicky cabbage fish sauce stir-fry, which had a viral moment in Thailand. It comes together in less than 10 minutes and uses just four ingredients. "That's a staple vegetable side dish that we eat all the time, like a curry that doesn't have all sorts of garnishes, and bells and whistles around it. So, (home cooking) can be a lot simpler."
As in Hot Thai Kitchen, Chongchitnant incorporated QR codes linking to more details on ingredients and techniques. How to wrap salad rolls, for example, can be grasped easily from watching a video in a way it might not from the page. She sees QR codes as a bridge. "When it comes to cooking an unfamiliar cuisine, a video is really great because you can see what you're supposed to be doing."
Article content
Chongchitnant started cooking professionally at Thai and Western restaurants after graduating from the University of British Columbia with a degree in nutritional science. She went on to study at Le Cordon Bleu culinary school in San Francisco where, in her apartment kitchen, she started her YouTube channel.
Even though she decided to continue her cooking career outside of restaurants, Chongchitnant is grateful for the experience. Chefs move differently in the kitchen, she says, and she set out to share some of what she learned about cooking more efficiently and quickly in the book.
After all, being a more efficient cook allows room to relax — and feeling at ease in the kitchen is the whole point. "I want people to be able to approach Thai cooking sabai-sabai. Without feeling like, OK, this is some project that you need to do. This is a difficult thing that you're trying to accomplish. I want it to be a regular thing. I think that's what it comes down to. If you feel like you want to eat Thai food on Wednesday, you can do that. It's not a stretch to make it happen."
Get the latest from Laura Brehaut straight to your inbox