Precipice Coffee Offers Downeast Maine a Steep Coffee UpgradeDaily Coffee News by Roast Magazine
3 min read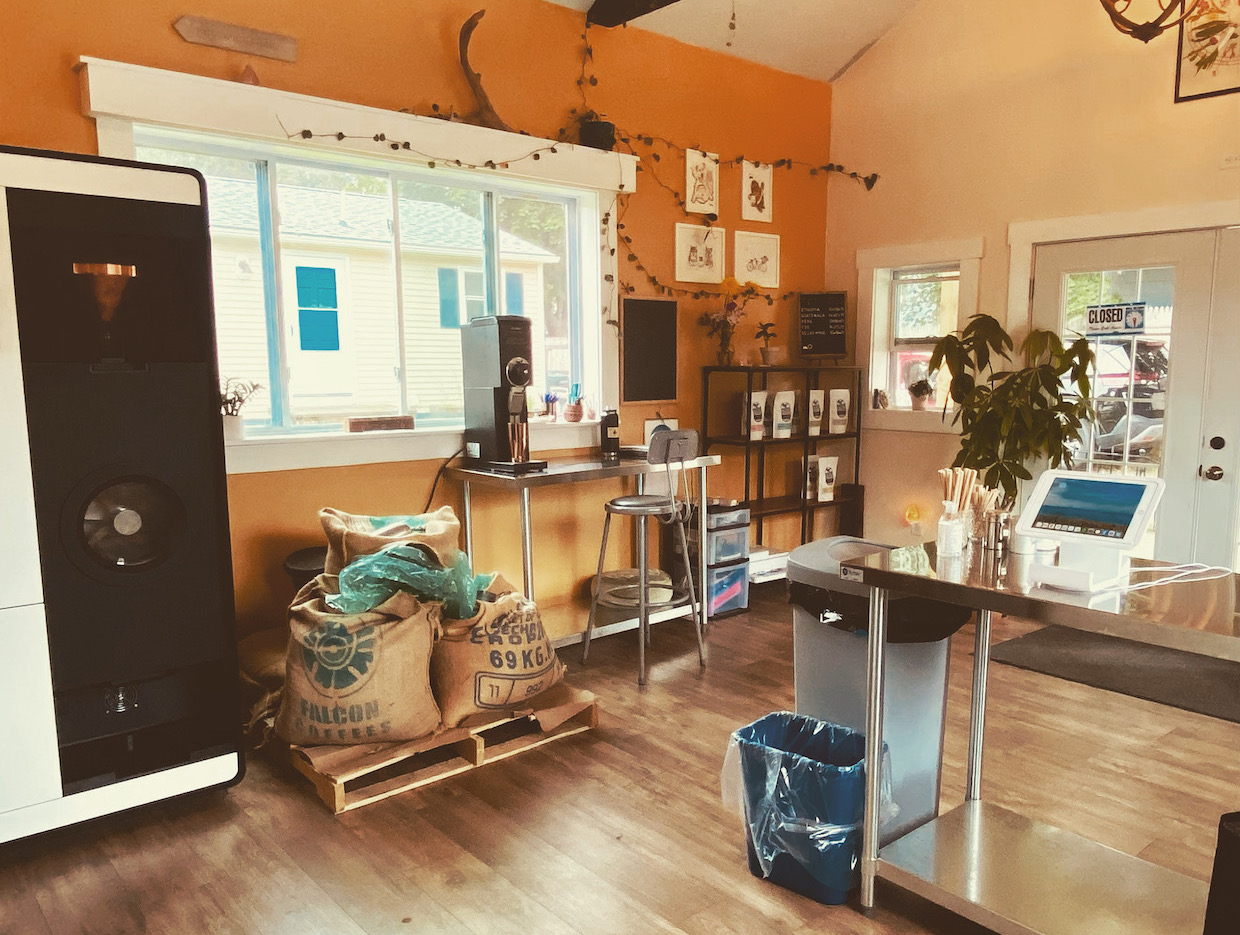 Surrounded by wildlife and waterways, Ellsworth, Maine, is a place where the values of treading lightly on the earth and preserving fresh air run as deep as the Union River that cuts through town.
It's here, at the gateway to Acadia National Park, that Precipice Coffee recently opened to fill nature-lovers' cups with roasts from a low-emissions electric unit that don't shy away from the lighter edge.
"We recently brewed a light roast Ethiopian natural [process] cold brew, and our customers have been surprised at how much they enjoy the fruit-forward flavor," Precipice Coffee Co-Owner Maggie Iannuzzi recently told DCN, noting that Precipice does provides a full range of profiles to suit guests' tastes.
Maggie and Bill Iannuzzi moved from Philadelphia to Alexandria, Virginia, where, after roasting for various Philly companies, Bill took the position of head roaster for Arlington-based Commonwealth Joe.
Two years and one pandemic later, the couple decided to relocate again, this time striking out on their own in the town they'd come to know as frequent visitors to the national park. Doors to the small shop soft-opened on July 4, with official hours starting five days later.
"We chose a warm mustard accent wall to create a backdrop for the Bellwether roaster," Maggie Iannuzzi, whose background is in hospitality management and beverage sales, told DCN. "We also highlight our love of the outdoors and have lots of plants to warm up the space. Since our business is right in front of our house, we want our shop to be an extension of our home and a place where our guests feel welcome."
---
Related Reading
---
Guests inside are treated to pieces from Philadelphia artist Carol Stamper, who uses watercolors and paints with coffee itself.
After years roasting on a variety of larger and more traditional drum roasters, Bill Iannuzzi said the transition to roasting on the electric Bellwether machine in the small space has been relatively smooth.
"The biggest difference is the zero emissions element and the complete lack of smoke all together," Bill Iannuzzi said. "We are in a residential area so keeping smoke and smells down was important in our decision to go with the Bellwether. In addition to being better for the environment, it also fits perfectly into our tiny shop."
Currently the shop is offering grab-and-go cups, manual pourover brews and cold brew, including cold brew lattes featuring an additional splash of coffee concentrate topped with cold foam and an optional pump or two of house-made syrups. Espresso is scheduled to arrive this fall.
---
Precipice Coffee is located at 56 Deane St. in Ellsworth, Maine. Tell us about your new coffee shop or roastery here.
Howard Bryman
Howard Bryman is the associate editor of Daily Coffee News by Roast Magazine. He is based in Portland, Oregon.