Netflix travel show features Berkshires farm-to-table food scene, unique vacation rental | Berkshirelandscapes
5 min read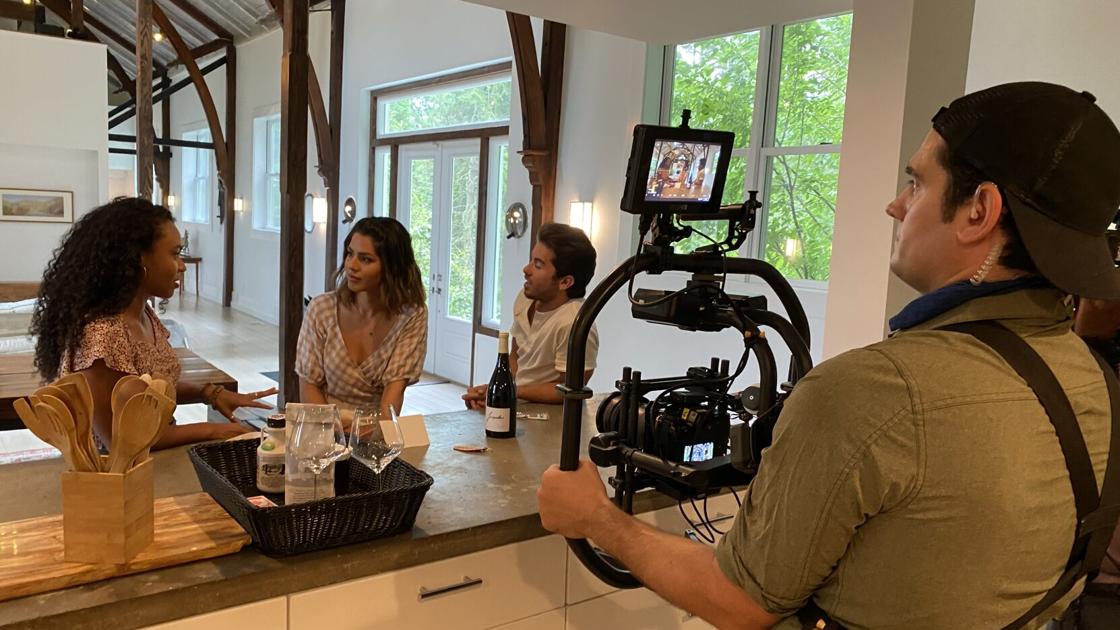 Not many people can say they've gone from a ski chalet in Japan to a culinary school in the mountains of Mexico to the Berkshires in search of the ultimate "foodie getaway," but that's just what the hosts of "The World's Most Amazing Vacation Rentals" do in an episode devoted to "Gourmet Stays."
The Berkshires — more specifically its farm-to-table food scene and a unique vacation rental, The Playhouse, in Lee — are front and center in the last third of episode six of the new travel show, which debuted on Netflix on Friday, June 18. 
The show follows Luis D. Ortiz, of "Million Dollar Listing," and content creators Megan Batoon and Jo Franco, as they travel the globe, exploring vacation rental properties that range from affordable tree houses to exclusive private islands. Each of the eight episodes in the series features three sites — a luxury spot selected by Ortiz; a budget-friendly site picked by Batoon and a unique rental chosen by Franco. 
"Welcome to Lee, Massachusetts. This is classic New England," Franco says as the trio drive through downtown Lee, on their way The Playhouse, on the former estate of George Westinghouse. "For my unique property, we're going back in time to The Berkshires in Massachusetts, the heart of New England's farm-to-table cuisine."
"I love driving through these fields knowing our food is going to come from this here soil," she says. 
Batoon, questions, why, if they are going back in time, they are arriving in a Tesla? 
"Because, we're staying in a place where Nikola Tesla and [George] Westinghouse used to hang out. They're the fathers of [AC] electricity so I had to pay homage to Tesla," Franco says as they pull up in front of The Playhouse at Foxhollow in Lee. Here, they meet up with James Gop, of Heirloom Fire, a sustainably-minded, fire-based catering events company that uses cooking methods from the late 1800s. With Gop, the trio travel to nearby High Lawn Farm and Taft Farms to select ingredients that will be used in a dinner being created on-site at The Playhouse.
"We have amazing food. We have amazing farmers. We also have incredible properties like this one. We have amazing culinary experiences. We have access to everything you could possibly want in life so you have to appreciate it and slow down," Gop says during his initial visit with the show's hosts. 
During the segment, Gop takes the group to select cheese at High Lawn Farm and pick vegetables at Taft Farms in Great Barrington. 
For Gop, exposing the Berkshires to a large audience is a blessing, but one that comes with anxiety that he's revealing a secret he shouldn't.
"To be honest, I am conflicted. I love The Berkshires and take a piece of it wherever Heirloom Fire travels. So much of our design and focus is inspired by the beautiful place I call home," Gop said in an email. "On one hand, I want to keep all of the unknown spaces and splendor to myself but at the same time I know how special they are and they deserve to be shared. I never want this place to lose its beauty."
Originally built by Westinghouse, The Playhouse once served as a theater space for his estate, which was later sold to Margaret Vanderbilt, the widow of Alfred Gwynne Vanderbilt. At one time, its guests included Tesla, President William McKinley and Lord Kelvin. 
"This is why foodies love this place," Franco says as the three tour the 7,000-square-foot house. "Look at how much space you have to work with. If this isn't the biggest invitation to want to cook, I don't know what is."
The Playhouse, she says, can sleep up to 20 people in its six bedrooms. There's also five full bathrooms, a living room, patio, deck, a second kitchen and in-house yoga studio. The property rents, on average for $1,200 a night. 
"These people really understand lighting, which is rare," Ortiz says during the tour. 
The Playhouse was renovated, beginning in 2014, when Daniel Dus, managing partner of Shared Estates, purchased the property with the intention of renovating it for a private living space. He would learn the property would need major structural renovations and restoration work. Two years later, when the work was complete, Dus was living in another part of the country and decided to list it on VRBO. It soon became the No. 1 luxury vacation rental in the Berkshires on VRBO and the model for Shared Estates, which now specializes in high-end luxury rental properties.
"I'm impressed at how well the producers, Critical Content, captured the essence of what makes the Berkshires special, including its history," Dus said in an email. "The Playhouse was built by George Westinghouse in the 1880s, and barely touched until our team's gut renovation started in 2014. It needed so much work, it took almost two years to complete. So proud of my team, and the Berkshires."
Dus sold the property in November 2020 for $1.29 million, after the episode segment was filmed, but the property is still available for vacation rentals through VRBO. 
"The added value here is huge; we're staying in a historical landmark, literally 2 hours away from New York City, so you can get away with a group of friends or family and have an amazing culinary experience," Franco said, driving home the reason picking The Berkshires as her unique vacation rental.