Make fun, easy iced coffee at home | Food Drink
4 min read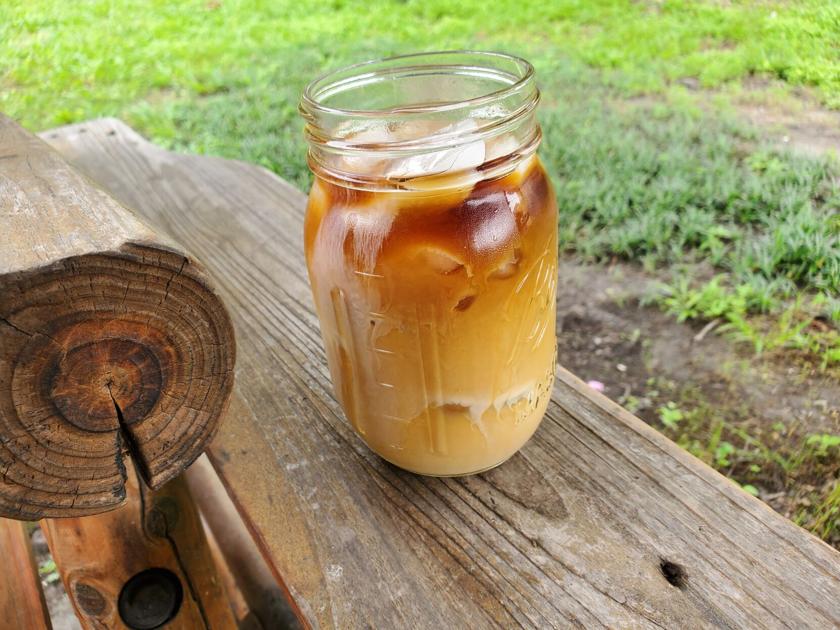 There are no local businesses I like to support more than coffee shops. It's not just the higher quality of coffee I keep coming back for but the home-away-from-home atmosphere.
However, I can't afford a $6-$7 specialty coffee five times a week. This summer I'm still going to be visiting my favorite shops, just with a budget. With that in mind, I've learned how to make a variety of coffee drinks from home that are simple, cheap, fun and surprisingly easy.
If you have no time in the morning, like me when I push the snooze too many times, the easiest way to get your coffee fix is to buy cold-brewed black coffee and the creamer of your choice. Fill a cup with ice, pour in the amount of coffee you want and then add some milk (or not) and sweeten it with creamer. I currently have on hand a sweet cream creamer. It was a little weird-tasting at first, but now I'm kind of obsessed.
It's not fancy, but it's quick, cheap and so easy.
This next recipe I found while scrolling through Instagram. It can be found at coffeebaecoffeeworld.com, along with lots of other fun coffee recipes.
For this one you combine 2 tablespoons of honey with two shots (about ¼ cup) of hot espresso. Fill a cup with ice, pour in the espresso mix plus 2/3 cup of your choice of milk and 2 tablespoons of chocolate milk. Mix it and try not to chug it.
The honey is very subtle, but the chocolate milk adds that chocolatey taste I never knew I needed in my coffee until I tried it.
Another one I can't stop making, which can be found on the same website as the last, is a frothy concoction.
Put 4 ounces of milk in a cup and use a milk frother until it looks like foam, which takes about 30 seconds, throw in some ice and 2 ounces of espresso and you've got yourself a fancy-looking drink that's super easy. If I want it sweeter, I'll add sweetener to the milk before frothing it, but most of the time I like the bitterness of the espresso subdued only a little by the milk.
My friend tells me my next summer coffee favorite is old news, but I'd never heard of lemonade iced coffee until recently. This one is perfect for sitting out on the patio of a beach house looking out at the ocean, which I'm hoping will be me sometime this summer.
First make some simple syrup, or as I like to call it, sugar water. Boil one part water and mix in one part sugar until it dissolves. You'll need at least 2 tablespoons for the drink. Pick a glass and fill it a third of the way with cold brew, squeeze fresh lemons into the glass until you get the amount of drink you want, add the syrup and mix. Top it off with ice.
It's kind of like a coffee lover's Arnold Palmer.
Another new favorite is called overnight New Orleans iced coffee and I found it on Hummingbirdhigh.com.
Pour ¾ cup of cold brew into a mason jar, add a tablespoon of chicory (which can usually be found where the instant coffee is at the grocery store) and one cinnamon stick. Put the lid on and shake the jar a good few times. Put it in the fridge overnight.
When you're ready to have some in the morning, strain the cinnamon stick and chicory pieces out of the mix. The jar is enough for two glasses of coffee, so split the mix into two 3-ounce glasses. If you're only going to make one, add 6 tablespoons of milk and half a tablespoon of sweetened condensed milk to one of the glasses and mix. Throw in some ice and enjoy.
I like this one because half the effort is done the night before, and it's a solid coffee. It has a nice balance of sweet and bitter.
When I first started making coffee at home, I didn't think it tasted as good as the stuff I bought at coffee shops and sometimes just didn't have the time. But I've learned to overcome both of those. By buying beans from those shops I can still support them, but get multiple cups of coffee at a cheaper price, while maintaining high-quality taste. And when I don't have time, I shortcut the coffee-making by using cold brew.
The hotter it gets, I'm sure the more ice (and sweetener) I'll use in my cup.