Lost Coffee Finds Momentum with New Shop in Littleton RoasteryDaily Coffee News by Roast Magazine
4 min read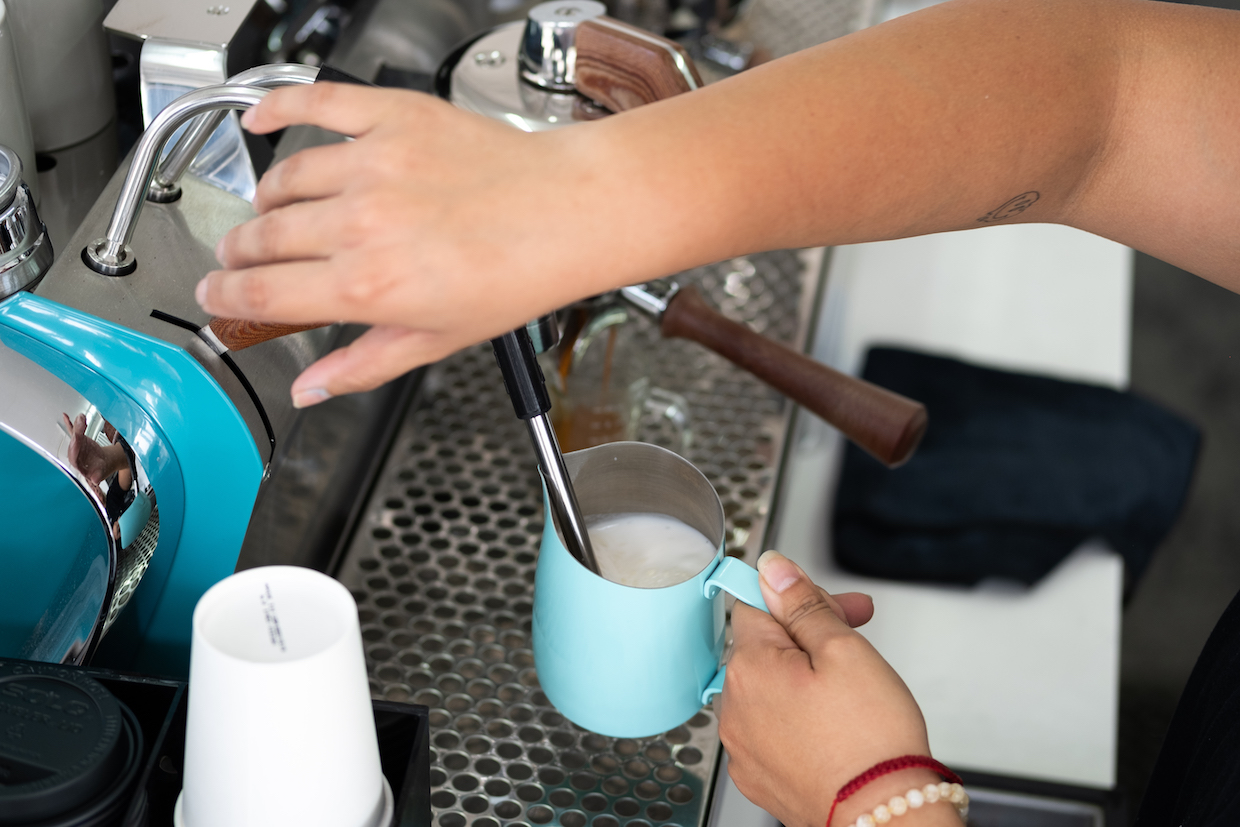 Like most independent coffee companies, Colorado-based company Lost Coffee had to find its way through some challenging terrain over the past year and a half.
After being forced to close two of its retail stores, the company recenlty discovered new forward momentum, opening a coffee shop at its roastery location in Littleton.
In keeping with Lost's two other remaining shops in Castle Rock and Denver, the new retail bar offers a bright, sunny vibe, softening the former automotive garage's light industrial character with plants, reclaimed wood, and colorful and engaging equipment.
A light blue Slayer Steam LPX espresso machine sets lively tones both visually and in the cup, while a Ground Control brewing system further stimulates the coffee conversation.
"We've opted for no pourover because the consistency and quality of the Ground Control is far more effective at showcasing our coffees," Lost Coffee Co-Founder Scott Gaerte told Daily Coffee News. "Our mission is to inspire the world through our craft, care, and conscience. So we want our customers to leave our stores catching that mission."
Coffee director Brittany Salmon leads sourcing of the green coffees that lead roaster Fergus Walker transforms through a Diedrich IR-12 in full view of customers.
Through careful vetting in the coffee program, Lost strives to ensure that its purchases support not only the owners and managers of the farms that grow the beans, but also the workers at mills and washing stations — people often overlooked in bean-to-cup stories told by many coffee companies in overly broad strokes.
"It's not that we don't care about the challenges of the farmers, but there are so many layers to the coffee process and so many souls involved," Gaerte told DCN. "I want to help our employees see that there are people at the end of the supply chain who are suffering but striving to make a better world for their families. That doesn't mean we don't see the farmer, but it does mean we think about everyone in the supply chain from sorting to washing and fermenting."
Monitoring the compensation of players further down the chain has been particularly challenging during the COVID-19 pandemic, which has stymied all travels to coffee farms and made basically every part of the business more complicated.
---
Related Reading
---
"We really have to trust our importers," said Gaerte, noting specialty importers such as Onyx Coffee and Keffa Coffee as reliable sources in challenging times. "I've been able to spend time with Sam Demisse [of Keffa] and Edwin Martinez [of Onyx] and meeting them in person, and the ways they helped us through 2020 weigh a lot on our buying decision."
Respect for workers at all links of the chain extends to Lost's Littleton location, as well. Shop manager Danielle Wagner, who worked on a coffee farm for four years, encourages new baristas to be first to chime in with perspectives on new coffee samples.
"In our staff cuppings feedback is given based on seniority, so the newest person gets to go first," said Gaerte. "It keeps bias out of the tasting process in my opinion, and challenges our new folks to think about the details on their palate. It's great when they immediately detect defects or positive characteristics and we can affirm them. That really gets them excited."
After more a decade in business since its founding as a food cart in 2010, including a 2020 that Gaerte said "left me on my heels as an owner," Lost is happy to find new footing in its Littleton production home.
"Our goal is to source great coffees from great partners, with the most transparent model possible, and then present those coffees to our customers in ways that excite and educate them," said Gaerte. "Our customer reviews have always run high, thanks to our team caring for our communities in ways that express our desire to be warm and inviting. I've set a goal to ramp up our execution on coffee for 2022. I believe coffee execution plus warmth is an unbeatable model."
---
Lost Coffee is now open at 1190 W Littleton Blvd in Littleton Colorado. Tell us about your new coffee shop or roastery here.
Howard Bryman
Howard Bryman is the associate editor of Daily Coffee News by Roast Magazine. He is based in Portland, Oregon.