I Went To Mexico City, 2023's Underrated Foodie Travel Destination
5 min read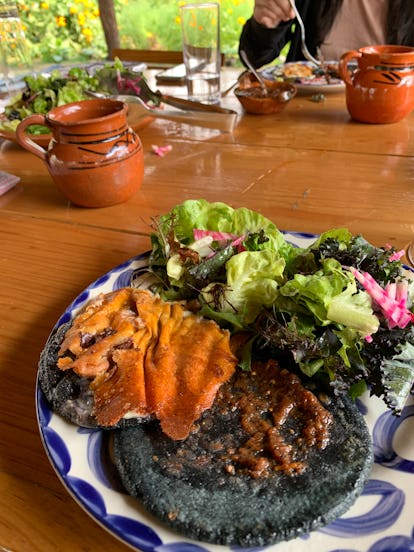 True life: I'm a traveler and a foodie, so I'm constantly searching for the world's best foodie destinations. And, according to the experts (aka travelers on TikTok), Mexico City has a fresh, cool, yet inexpensive food scene that's well worth the trip. So, when American Express Travel named Mexico City as one of its top trending travel destinations for 2023 and invited me to experience it for the first time, I saw it as a sign to eat my way through one of America's oldest cities. What I found was that it's almost impossible to find a bad meal in Mexico's capital, no matter the budget.
Mexico City is often overlooked by tourists in favor of Mexico's gorgeous beaches, but its mouthwatering mix of casual cantinas and affordable high-end eateries boasting "world's best" status should put it high on your travel bucket list. Starting from my first Mexico City foodie experience — a bowl of chicharron (fried pork skin) dusted with a spicy dry rub at the Sofitel Mexico City Reforma — to my final lip-numbing, spicy tuna tostadas from Contramar en route to the airport, finding a delicious meal for under $20 was an easy task. With great spots in every neighborhood, here are some of the best under-the-radar eats I enjoyed during my journey through the Mexican capital:
Under-The-Radar Mexico City Food Experiences
Short of staying with people who live there, one way to experience what locals might cook at home or for special occasions is by taking a cooking class. At Chef Graciela Montaño's Aura Cooking Class in Mexico City, which is also an Airbnb experience you can book online starting at $27 per person, I learned how to make mole blanco (white mole), a celebratory dish that's traditionally only served at Mexican weddings. What makes it extra special is that it's a meal you'd never really be able to order at a restaurant. Personally, I enjoyed the creamier, more mellow flavor of the dish compared to a traditional mole sauce. Plus, the combo of white pine nuts, almonds, golden raisins, white sesame seeds, and peanuts was unlike anything else I've ever tasted.
Farm-to-table fans looking for a unique al fresco dining experience in Mexico City should try Arca Tierra, an eco-friendly farm that's tucked away in the middle of Mexico's capital and only accessible by boat. In addition to hosting cooking workshops and gourmet experiences, the sustainable farm supplies fresh, organic produce to many of Mexico City's top restaurants. It was easily one of the best meals I had during my visit, and it was also arguably the most informal.
Using traditional outdoor ovens, one of the resident chefs prepared a few simple courses of quesadillas stuffed with seasonal ingredients like squash blossoms, as well as stewed meat "gorditas" and griddled cheese, all in homemade blue corn tortillas. I wanted to swim in the homemade salsa that they served with the meal, and everything tasted like it had just been prepared that day. While it was one of the more expensive meals I had in Mexico City (it's $65 per person, which includes a three-hour tour of the farm and a boat ride down the canals), the simplicity of the dishes let the fresh ingredients speak for themselves.
Mexico City Tacos
Figuring out where to get the best tacos in Mexico City isn't easy, and everyone has their own opinions on which ones you can't miss. Luckily, this gives you another excuse to sample a bunch of different tacos, including late-night spots like Taqueria Orinoco and street taco vendors. IMO, a taco crawl throughout Mexico City wouldn't be complete without a visit to Taqueria El Califa in the Condesa neighborhood, which is known for its no-frills tacos al pastor that cost just over $1, as well as its ribeye and Costra tacos (starting at about $2.85 a piece), which were stuffed with meat and wrapped in golden, griddled cheese-encased corn tortillas. The single tacos come out as they're done, making it super easy to try a bunch of different things. Pro tip: Make sure to get appetizers like fried cactus, guacamole, and the crispy cheese chicharron for the table to keep you satiated while you're waiting for your tacos to come out.
‌Mexico City Churros
I'm someone who prefers savory over sweet, but visiting what Bon Appetit says is the best place to get churros in Mexico City, Churrería El Moro, converted me into a dessert person. There are a few different locations you can visit to enjoy the restaurant's signature crispy, piping hot, sugar and cinnamon-topped churros, but the location in Condesa is definitely the most 'Gram-worthy. Plus, you can grab your warm churros to go while checking out the area's cute boutique shops or in the park nearby. The best part is that four churros cost just over $2, making it a very inexpensive stop.
High-End Mexico City Restaurants
Any Mexico City visitor will get one restaurant recommendation over and over again: the Michelin-starred Pujol, which has consistently been named one of the best places to eat in the world. For $2,565 Mexican Pesos (or about $128), the seven-course Michelin tasting menu from acclaimed chef Enrique Olvera, who also owns Cosme in New York City, is a can't-miss for any foodie bucket list, and both locals and the friends sliding into my DMs with recommendations were quick to hype it up.
If Michelin-star prices aren't in your budget, check out Ticuchi, which is located in the old Pujol space and is also headed by the same chef. A staple in Polanco, one of Mexico City's most affluent neighborhoods, you can count on dim lighting and a semi-clubby lounge feel. While you can get more affordable options in more up-and-coming areas like Roma and Condesa, this is a good option if you want a trendy vibe with creative Mexican small plates to share. I'd recommend it as a drink spot, as there was a large selection of tequilas and mezcal with cocktails coming out to around $10.
For a more upscale lunch, locals recommend Contramar, a favorite on many foodies' bucket lists, as well as with celebs like Jared Leto. Their tuna tostadas were the best ones I've ever had, boasting a delicious combination of fresh tuna, spicy slaw, as well as avocado and fried onions. The people-watching and see-and-be-seen ambiance made the dining experience an entertaining one as well. It's a good idea to go as soon as the restaurant opens, as I quickly realized diners are typically not in any hurry to cut their lunch break short, and I ended up taking my food to go.
Whether you're searching for an off-the-beaten-path eatery or an affordable restaurant where you can grab a world-class meal, Mexico City really has it all — and it's only a matter of time before it gets the same clout as other major foodie destinations. Anyone who appreciates a great but inexpensive food scene should add it to their travel bucket list in 2023. In the meantime, I'm counting down the days until I can return and order more cheese-griddled tacos.