Heirloom recipes are worth keeping, making and passing down | Food
6 min read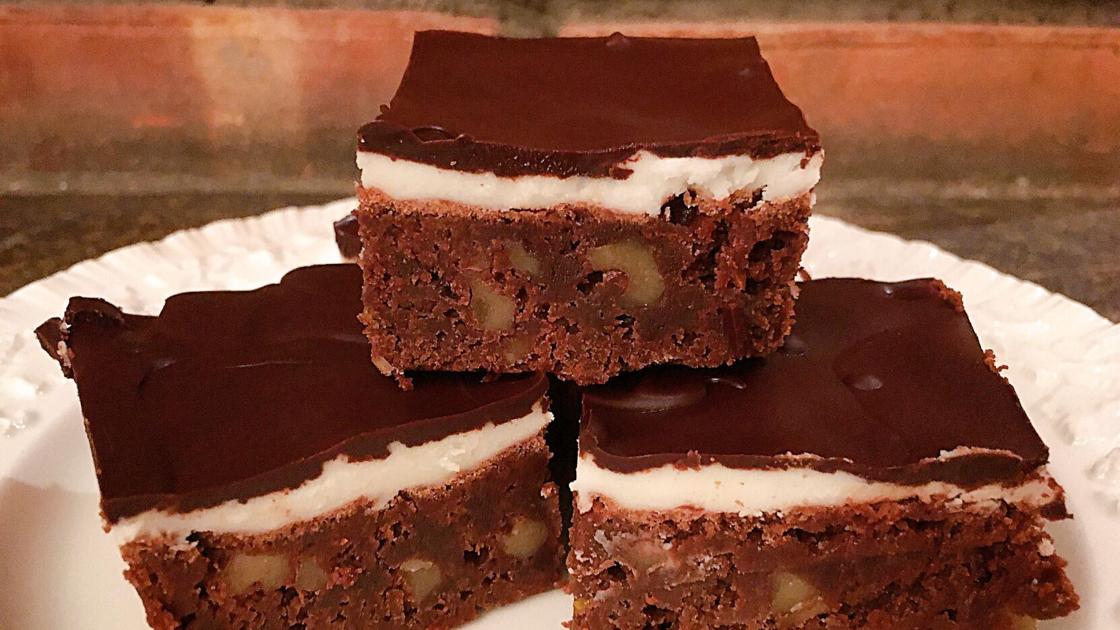 As friends and relatives look to downsize, the reported trend these days is that millennials don't want the family treasures that have been passed down for generations. That's trouble for us, as we have three different sets of china, three different sets of silver, plus lots of other random items from our parents and grandparents, and someday we will have to figure out what to do with it all.
As much as we may wish our children will someday want these treasures, there are many more that have already been lost; the treasured heirloom recipes which we remember fondly from family dinners and special holiday meals.
So often these recipes were not written down, or were scribbled on random pieces of paper that yellowed, crumbled and were lost. I am fortunate enough to have some of these, and even some that were written on a scrap of paper or the back of an envelope.
Now, to be fair, there are some recipes in my mother's old recipe box that I will never try, like the lime gelatin mold with cabbage. Others make me chuckle, like the one for brisket, where the first instruction says, "Get brisket." But there are so many that my children adore, which I am sure will be passed on to their children and grandchildren.
Here I offer a few favorites from my family. The story behind the first one is that my mother took the basic recipe for the meatloaf she had always enjoyed as a child and decided to form it into a spiral with Swiss cheese. She was inspired to enter a recipe contest sponsored by a Swiss cheese trade group, and won a Swiss watch for her creation! While other families serve green bean casserole at Thanksgiving, for our traditional green vegetable we make these peas from my grandmother, called Nena by us cousins. My Aunt Jane, in the days when women were expected to be housewives, ran a catering business out of her home. I cannot imagine how many batches of these mint brownies she made, offered at every event she catered and beloved by all of us cousins, and now by all our children.
I am happy to share these family treasures, but, more importantly, I hope to inspire you to document family favorites. While you may treasure a favorite platter or a special piece of artwork, family recipes are heirlooms worth preserving for the memories and the history they carry.
MOM'S PRIZE-WINNING MEATLOAF
Serves 8 to 10 (and leftovers are good!)
Note: For an easier version on a busy day, this can be made without the cheese by simply making a free form loaf shape.
INGREDIENTS:
2 pound ground sirloin or meatloaf mix
2 eggs, lightly beaten
1 tablespoon Dijon mustard
1/2 cup seasoned bread crumbs (I like the kind that includes some Parmesan)
4 1/2 to 5 ounces Swiss cheese, sliced thin (pre-sliced is fine)
1 can Campbell's condensed tomato soup
1 cup water
1 tablespoon Worcestershire sauce
1/2 to 1 teaspoon Tabasco or other hot sauce (optional)
DIRECTIONS:
Preheat the oven to 350 F.
In a large bowl, combine the meat, eggs, mustard and bread crumbs, and gently mix well. Spread the meat mixture into a rectangle about 1/2-inch thick. (It can be helpful to do this on a piece of foil.) Lay the cheese slices over the meat, leaving about an inch border. Starting on a long side, carefully roll up the meat so that the cheese becomes a spiral inside. Press the ends and the seam closed, and if any cheese is showing, just press the meat to cover. Place the meatloaf in a glass baking dish, seam side down.
Pour tomato soup into a medium bowl. Add water, Worcestershire sauce, and Tabasco (if using) and whisk to combine. Pour over the meatloaf, allowing the sauce to run off into the baking dish. If you really like more sauce, double these amounts.
Cover with foil and bake for 1 hour. Remove the foil and bake for another 30 minutes. Allow to cool a few minutes before slicing. Some of the cheese may ooze out, but it can be ladled over slices of meatloaf and whatever you serve with it, such as rice, mashed potatoes, or noodles.
For leftovers, allow to cool, cover with foil, and keep in the refrigerator. There may be a layer of fat solidified in the morning, which can be taken off and discarded. This recipe reheats well in the microwave, and you can even freeze portions for another time. I also like thin slices after it cools in meatloaf sandwiches.
---
NENA'S PEAS WITH MUSHROOMS AND WATER CHESTNUTS
Serves 4, can be doubled
INGREDIENTS:
1 tablespoon unsalted butter, or olive oil for a vegan version
8 ounces sliced mushrooms, white or baby bella
1/2 teaspoon kosher salt
1/4 teaspoon fresh ground pepper
1 pound frozen peas
One 8-ounce can sliced water chestnuts, drained
1 tablespoon cornstarch
3/4 cup chicken or vegetable broth
DIRECTIONS:
Melt the butter in a sauté pan over medium-high heat. Add the mushrooms, sprinkle with salt and pepper, and sauté, stirring frequently. At first, the mushrooms will absorb the butter and it might seem like you need more, but resist the urge to add more butter. They will eventually give up their moisture, and it will seem like they are too wet. Eventually the liquid will cook away and they will get brown and crispy on the edges.
Add the peas and continue to sauté, stirring frequently until the peas are warmed through, then add the water chestnuts.
Make a slurry by mixing the cornstarch and broth. Add the slurry to the pan and cook until the liquid warms through and makes a gravy-like consistency.
---
AUNT JANE'S MINT BROWNIES
Makes one standard square pan
INGREDIENTS:
Brownie Layer:
1/2 cup (1 stick) unsalted butter
2 ounces unsweetened chocolate
1 cup sugar
2 eggs
1/2 cup all-purpose flour
1/2 cup chopped walnuts
Mint Layer:
1 cup confectioners' sugar, sifted
2 tablespoons unsalted butter, softened
1 tablespoon heavy cream or half-and-half
1/2 teaspoon peppermint extract
Chocolate Glaze:
2 ounces unsweetened chocolate
2 tablespoons unsalted butter
DIRECTIONS:
Make the brownie layer. Preheat oven to 350 F. Grease an 8-by-8 or 9-by-9 brownie pan and line the bottom with parchment, allowing the extra to drape over two sides.
Melt together the stick of butter and 2 ounces of unsweetened chocolate in a double-boiler or the microwave. In a separate bowl, cream the sugar and eggs together with an electric hand-held mixer or stand mixer. Add the butter and chocolate mixture and stir to combine fully. Fold in the flour and nuts by hand.
Spread the brownie batter evenly in the prepared pan and bake for 30 to 35 minutes until firm in the center. Allow to cool on a rack.
For the mint layer, cream together the confectioners' sugar, 2 tablespoons butter, cream, and peppermint extract together with an electric hand-held mixer, in a stand mixer or by hand with the back of a wooden spoon, taking care to mix gently so the confectioners' sugar doesn't puff up all over the counter. Spread evenly over the cooled brownie layer (an offset knife helps here if you have one) and refrigerate.
Remove the brownies from the refrigerator and bring to room temperature. For the chocolate glaze, melt together 2 ounces of unsweetened chocolate and 2 tablespoons butter. Pour over mint layer and tilt the pan to make an even layer of chocolate over the top. Refrigerate until cold.
Gently cut through the layer with a thin knife. If necessary, run warm water over the knife then dry to create clean cuts.