From Olympia Coffee Roasting Comes Moonrise Bakery in SeattleDaily Coffee News by Roast Magazine
3 min read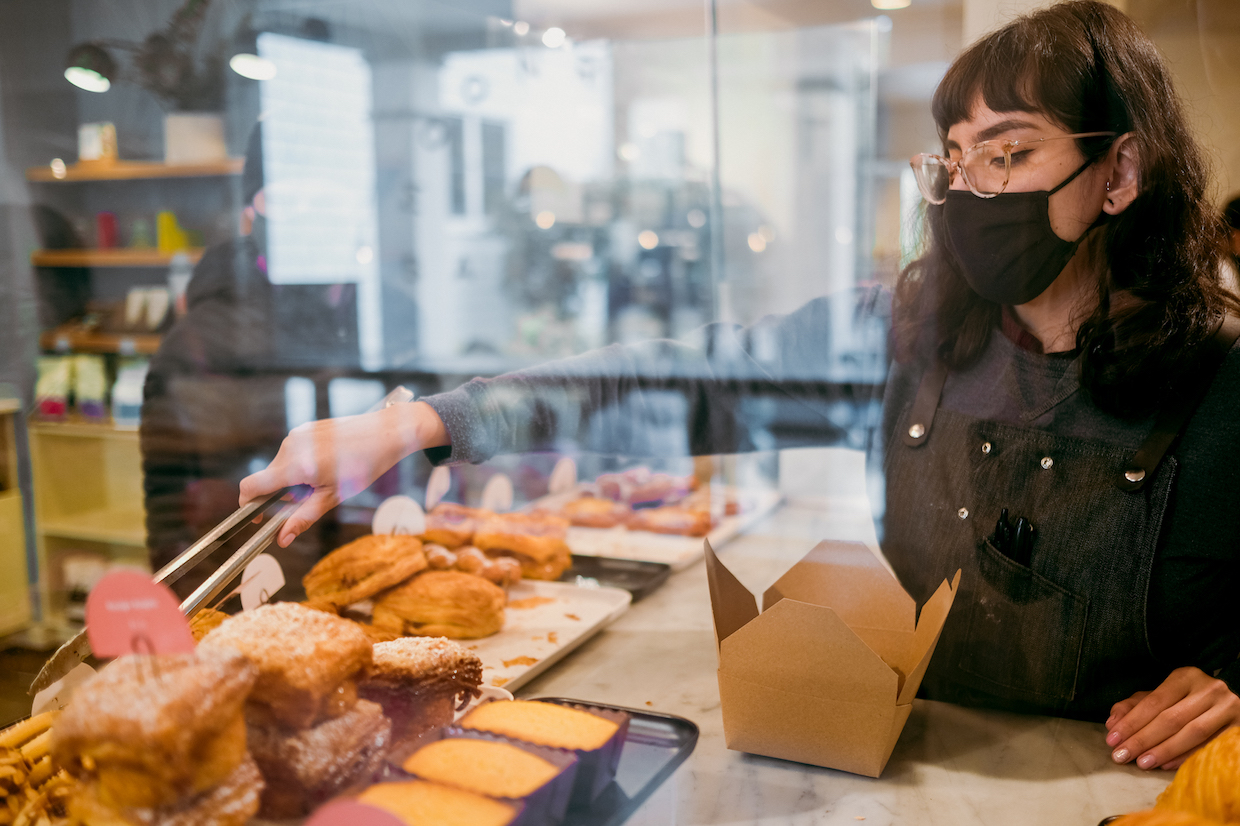 Acclaimed Washington state coffee roasting company Olympia Coffee Roasting Co. is this weekend celebrating the opening of Moonrise Bakery, a retail location and sibling brand based in Seattle.
A series of events both unfortunate and fortuitous led the Olympia team into the baking game. The coffee company's longtime baked goods supplier ceased operations early on in the pandemic, so it turned to Le Reve Bakery in Seattle's Queen Ann neighborhood. In July of 2020, Olympia took ownership of the bakery from previous owner Andrea Nakata.
A rebrand to Moonrise Bakery and an update to the Queen Anne retail location are being cemented with a grand opening this Saturday. The bakery will provide pastries and other baked goods to the on-site cafe, as well as to Olympia's six other retail locations in Seattle, Tacoma and its home city of Olympia.
The baking outfit represents a new chapter for Olympia, which has managed to survive a relentlessly difficult year for retailers of all kinds during the pandemic.
"Cautiously optimistic would be the best way to describe our outlook," Olympia Coffee Roasting Co. Co-Owner Oliver Stormshak told DCN. "We have spent over a year on the defense, pivoting to be relevant. We are excited about the future; it feels good to be holding a delicious coffee and croissant in our hands."
---
Related Reading
---
Moonrise Bakery is opening under the leadership of former downtown Olympia cafe manager Molly Rautenstrauch and longtime Le Reve bakery production manager Alex Martinez. The company says it has been focusing on laminated dough creations and other pastries such as kouign amann, twice-baked almond croissant, pain au chocolate, and a new lemon olive oil cake.
The remodeled cafe will naturally serve Olympia coffees, which are sourced according to the company's strict in-house standards. Baristas trained by Olympia Coffee Co-Owner Sam Schroeder and Trainer Reyna Callejo will be pulling shots of Olympia's Big Truck Espresso blend through a Seattle-built Slayer LP machine, while Fetco batch brews will be on offer.
Olympia also enlisted natural wine expert Sean Mead of Seattle's Vif and Petite Soif to assemble a natural wine bottle shop.
All these goodies can soon be enjoyed in what the company has described as an "outdoor house" at the Moonrise Bakery cafe, comprising seating areas that are open to the elements on all sides but protected by glass and overhanging eaves from above.
As it kneads deeper into the baking game, Moonrise plans to refine the same sort of direct-trade-driven sustainable approach to sourcing ingredients that Olympia applies to its coffees.
Stormshak said as COVID-19 concerns ease up, the company plans to visit and reach out to various suppliers and Western Washington producers, while also creating a custom butter through a partnership with a local farm.
The new baking brand does not have any existing wholesale plans beyond the Olympia network. Said Stormshak, "Our pastries will be exclusive to Moonrise Bakery and Olympia Coffee locations."
Moonrise Bakery is now open at 1805 Queen Anne Ave N #100 in Seattle.
Nick Brown
Nick Brown is the editor of Daily Coffee News by Roast Magazine. Feedback and story ideas are welcome at publisher (at) dailycoffeenews.com, or see the "About Us" page for contact information.