Fresh Juice Bar and Smoothies brings healthy, cultural food and beverages to Tyler | Business
4 min read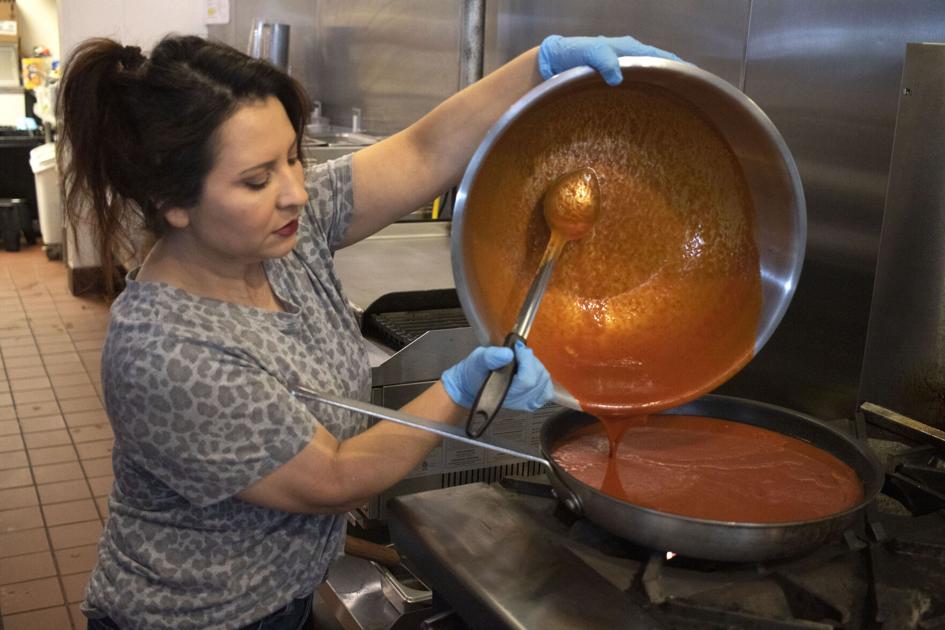 After being laid off from their pipeline full-time jobs, Maria Guillen and Salvador Saplu partnered up to open Fresh Juice Bar and Smoothies in Tyler. 
"We were panicking. I told him, 'I know how to cook and I know how to create all my Latin snacks. We can combine all our food trucks that I've had before and also open a storefront,' I told him to give it a try so we put our money together and here we are," Guillen said. 
Guillen has loved cooking since she was a young girl and had to teach herself how to cook because her mother always worked. 
"My mom was from Guanajuato, Mexico. She brought us here when I was 3. She worked really hard and taught us how to cook because she was always at work since she couldn't be home." But even when my mom cooked I would be on a stool watching her as a baby. I would tell her 'how much did you put on this mom?' I would always have to help her out because she was very hardworking. Because of her, I have this." 
From owning different food trucks in East Texas, Guillen decided to combine all her past businesses into one storefront. 
Her past businesses included Texas Grilled Dogs, a hot dog mobile food unit. Chilito Pikin #1 and Chilito Pikin #2, a Latin snacks and Latin mobile food unit. The units were all based in Tyler but they traveled around Texas to participate in charity events.
Guillen said COVID-19 was the reason why she shut down all her mobile units after events, where her food trucks would participate, were canceled.
Popular items include birria tacos that take five hours to cook every day. She toasts the peppers every day at 5 a.m. The tacos hold a special place in Guillen's heart because they were a recipe from her mother who influenced her passion for cooking. 
Guillen is very particular about the freshness of her food, which is prepared and cut every morning.
She emphasized the customer's happiness is what she cares about, and she's open to customized orders.
Menu items range from specialized hot dogs (jumbo-sized all-beef franks or a plant-based vegetarian option), juices and smoothies, desserts, fresh fruit waters, burgers and fresh fruit popsicles. 
All juices and smoothies are made with fresh items. For milk, oat and almond milk are also offered for non-dairy options. She said customers can bring their own protein for their smoothie.
"My mom had a health kick, she never wanted us to eat candy and stuff. She would always say 'Imma make you a smoothie with bananas and everything fresh.' Now I got it here and people love it here. Her nature was just to eat healthy and eat fresh," she said. 
Desserts include tres leches milkshakes with cakes, horchata smoothie, mazapan milkshakes, ice cream bowls and creative ice cream cones with Fruit Loops, cotton candy and Lucky Charms cereal. 
"I wanted to bring that culture to this side and it's been selling a lot. I am very artistic so I'm going to decorate it over the top. I am over the top with everything" Guillen said. 
After over a month in business, Guillen wants to continue creating and expanding the menu. 
"I am the only one that knows my mixes right now. I am back there making your juices, your smoothies, Latin snacks, milkshakes. I make it all, it's just me by myself. I do my birria before my head cook comes. This is my baby. I want to have everything perfect. Nobody wants to work right now so I have to carry my baby by myself, but I am good with that because I am passionate about cooking and creating things," Guillen said. "Right now I have so many ideas and wanna add more to the menu but I don't have the amount of staff to create it."
Menu specials are available throughout the week. Senior citizen and military discounts are also available. 
Customers can get frijoles charros, a traditional Mexican dish with pinto beans, onions, bacon and sausage, on the weekends as they wait for their order.
"I only did them at my grand opening and everybody asked me if I had them every day," Guillen said. "I didn't want to disappoint people so I decided to cook them on Saturdays and Sundays."
Guillen said when the business starts making a profit, her goal is to give back to the community by donating to animal shelters, shelters for abused women and local authorities. 
Fresh Juice Bar and Smoothies is located at 3502 South Broadway Ave. in Tyler. Business hours are Tuesday through Sunday 11 a.m. to 8 p.m.