Fare With A Flair: 'Clean-out-the-fridge' soup day is back
4 min read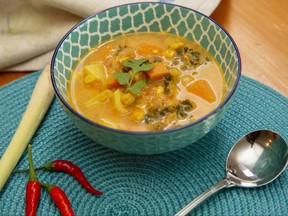 Happy New Year. While I'm not normally one to make New Year's resolutions, this year I am.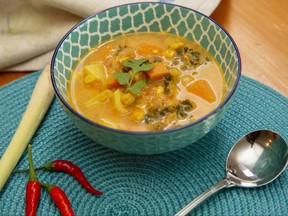 Reviews and recommendations are unbiased and products are independently selected. Postmedia may earn an affiliate commission from purchases made through links on this page.
Article content
Happy New Year. While I'm not normally one to make New Year's resolutions, this year I am.
Article content
My resolution is to compost year-round. I typically get lazy in winter and don't want to make the short trip through the snow to my composters.
Article content
But composting vegetable and fruit scraps can minimize what we put to the curb in our garbage bins.
I'm also returning to my Sunday "clean-out-the-fridge soup" ritual. It's a great time to look at what's in the fridge and see what needs to get used up.
Today's recipe is a result of a deep dive into the fridge to make a satisfying soup for dinner.
I had a cup of coconut milk left from a Thai curry earlier in the week. There was a sweet potato in my root vegetable bin and a little bit of frozen corn in the freezer. There were a few stalks of kale, too, not quite fresh enough for salad, but perfect for soup.
Article content
What spices to put with it? Perhaps your favourite curry powder or a Thai curry paste. Make it a habit to keep your spice cupboard up to date and consider adding different spices to your soups and stews. I always have canned legumes in the cupboard and found I had a lot of chickpeas.
It took about 30 minutes to put this potage together and I served it with toasted Naan bread.
Let's all do better this year, using all the food we buy and trying to waste less. And if you can, compost.
---
Curried Sweet Potato Chickpea Soup
(Serves 4-6)
2 tbsp. (25 ml) vegetable oil
1 onion, diced
2 cloves garlic, minced
1 tbsp. (15 ml) Thai curry paste or Indian curry powder
2 cups (500 ml) diced sweet potato (or squash or potato)
Article content
4 cups (1L) vegetable stock or water
1 stalk of lemongrass, cut in half (optional)
1 cup (250 ml) coconut milk
2 cups (500 ml) chopped kale or spinach
1/2 cup (125 ml) frozen corn, thawed
1 cup (250 ml) canned chickpeas, rinsed
Salt and pepper to taste
Lime wedges for serving
Directions:
1. In large saucepan, heat oil over medium heat.
2. Add onion and cook until soft. Stir in garlic.
3. Add curry paste (or powder), sweet potato, vegetable stock and lemongrass (if using). Bring back to simmer and cook until sweet potato is almost tender.
4. Add coconut milk, kale, corn and chickpeas. Simmer about 10 minutes. Remove lemongrass.
5. Season with salt and pepper to taste. If you like a bit of heat, add a splash of your favourite Asian hot sauce or chili paste.
6. Serve with lime wedges on the side and toasted Naan bread or steamed rice.
Fare With A Flair: Popular Canadian cereal great for quick bread too

Fare With A Flair: Get back to basic with pasta dish