Emma Chamberlain Shares Iced Latte Coffee Recipe
5 min read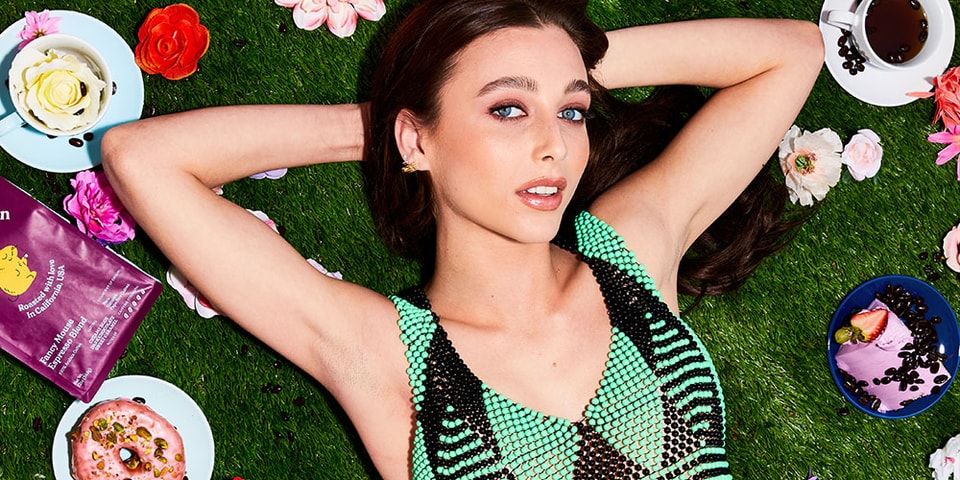 If you're one of Emma Chamberlain's 10 million YouTube subscribers and love watching her vlogs, you'll probably know that the social media star is obsessed with coffee. Her company Chamberlain Coffee, which received a rebranding last year, is not only known and loved for its convenient steeped coffee bags, but also for its adorably designed and sustainable packaging. Expanding her coffee empire, the style influencer has recently launched her newest blend dubbed the Fancy Mouse, designed for making the perfect shot of espresso. Boasting sweet notes of chocolate and caramel, the strong coffee also features a creamy body ideal for making lattes.
Over a Zoom call, Emma talks to HYPEBAE about how she grew to love coffee so much, and why she chose a mouse as the mascot for her latest launch. The multi-hyphenate also shares with us her almond milk latte recipe that can be served both hot and cold.
Read on for our conversation, and shop the brand's different blends at the Chamberlain Coffee website. In case you missed it, check out our editor's review of Emma's famous cold brew recipe.
How did you get hooked onto coffee? Do you remember when you first started drinking it on a regular basis?
Coffee has been a part of my life since I was five years old. My dad would take me to coffee shops in the morning on the weekends when my mom was sleeping. After I started drinking coffee more regularly, it became a social thing later on not only with my family but also with friends.
When is your favorite time to drink coffee?
Of course, I have to have my coffee first thing in the morning no matter where I am. It's a staple. I'll drink it throughout the day too, though. Recently, I've been getting into drinking more decaf at night because obviously, I don't want to consume caffeine late at night. Usually, I'll drink decaf past five in the afternoon unless I have to pull an all-nighter or something like that.
What was the inspiration behind the creation of the Fancy Mouse Espresso Blend?
I've always been a person who loves lattes, and in order to make the perfect latte, you need the perfect double shot of espresso — or for me, four shots of espresso. That is what truly makes a great latte. Espressos are a more complex way to drink coffee, but there are so many people out there who love it. I've always loved it so much, so I wanted to create a blend that would give the espresso lovers something that they can use that's perfect for that type of extraction. When you make coffee, different blends work better for different ways of brewing. Some work great for a French press or drip. This one is just perfect for a latte or as an espresso shot. It's really catered for that niche coffee drinker.
Can you tell us the story behind the mouse mascot?
I love having fun with the characters on each of the coffee blends. I chose a mouse for this one for two reasons. One, mice are tiny and so are espresso shots, so that's cute. Two, there's something really classy and elevated about espresso. When I was so blessed to travel to Europe, one of the things I loved was the way a cup of espresso would make me feel. It felt good and fancy. I wanted to capture that feeling with this character. Plus, I love rodents, so I've been waiting for the perfect time to use a mouse for Chamberlain Coffee. I grew up with rats so I thought "fancy rats" would make a fun meme.
How would you recommend drinking the new blend?
I'm an iced coffee drinker in general. My ideal way of drinking the Fancy Mouse Espresso Blend would be an almond milk latte, of course. This is how I prepare it:
1. Grab a cup and fill it with ice.
2. Pour in two to four shots of espresso depending on how I'm feeling.
3. Add almond milk and add a dollop of dairy-free creamer to sweeten it up a little bit.
Other than that, my dad actually visited recently and I made him a hot latte, which he loved. The only thing I did differently was adding cinnamon on top. He was freaking out over it.
What is something you would eat the Fancy Mouse Espresso Blend with?
There are so many things. I would say a chocolate croissant. I could eat that at any time of the day.
Out of the full Chamberlain Coffee collection, which blend is your go-to?
Right now, my go-to is the Fancy Mouse, just because I've been having a lot of fun with it, as I always do with the new blends. But when I make cold brew, my favorite is the Early Bird since I've been into light roast coffee lately. It's really hard for me to choose because I truly love all of them. I've gone through phases with every single one.
Once the pandemic is over, what is one coffee shop — anywhere in the world — you'd like to visit? And what would you order?
I remember doing a video with Vogue Paris where we visited all of the different coffee shops in Paris. There was one that was a Michelin star coffee shop. It was so good. It was the most incredible thing I've ever had. Every single drink they had on their menu was so elaborate and delicious. I remember they also served hors d'oeuvres on the side to complement the notes in the coffee. It inspired me on so many levels.
Can you share some new projects you have in mind for Chamberlain Coffee? Any plans on opening a physical store or cafe?
I would love to open a physical Chamberlain Coffee store at some point. Although I can't actually open up a storefront right now, there may be a pop-up so that could be really exciting. We're also going to come out with variety packs so that people can try out everything to figure out what they want.
Also, we're going to do drippers that can go on top of mugs for brewing, which is great for anyone who doesn't want to deal with a complicated coffee-making setup. The last thing we're working on is some fun merch. I love to represent stuff that I like, so we're looking to come out with some products soon.