Deeper Roots Coffee Opens Biggest Branch in CincinnatiDaily Coffee News by Roast Magazine
3 min read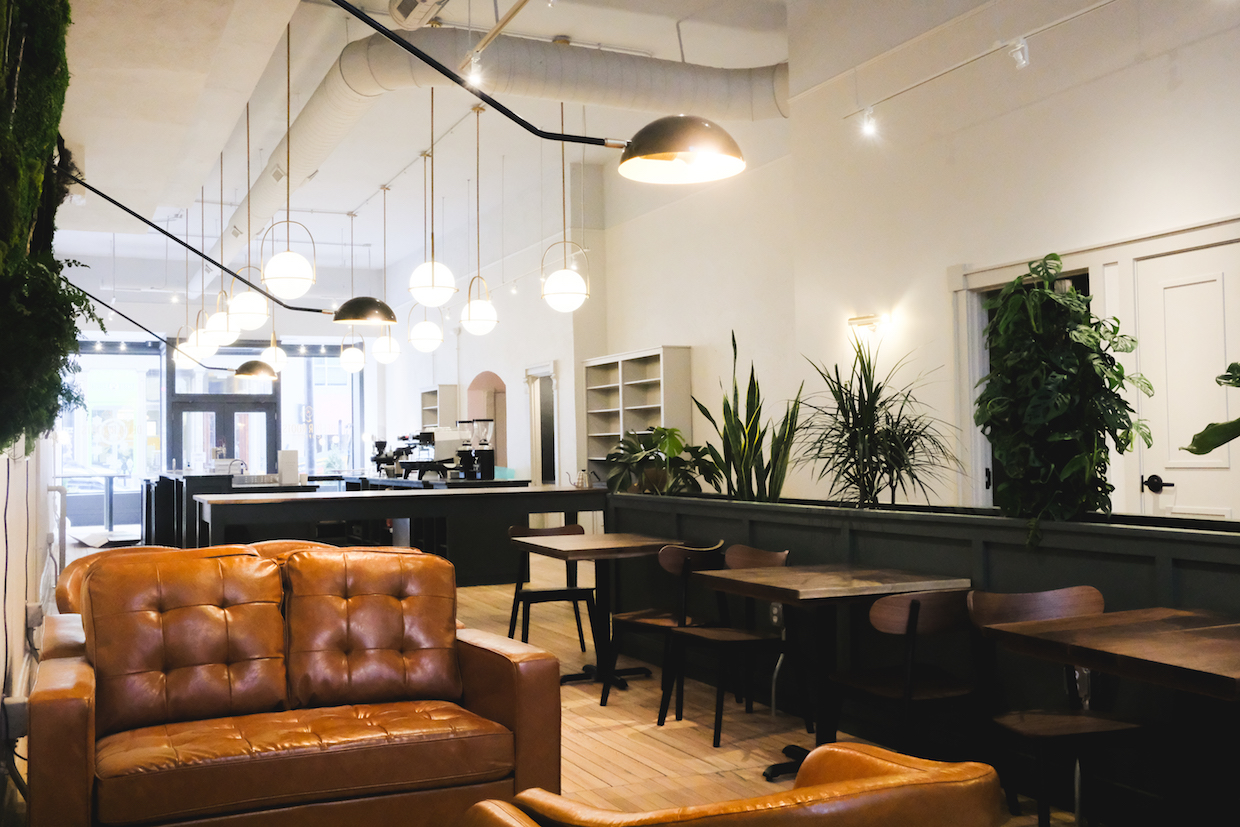 Cincinnati-born Deeper Roots Coffee has opened its third and by far largest coffee shop to date. The 1,500-square-foot cafe opened in the central business district in January, offering carryout service for now.
Once fully open, the shop will seat roughly 40 people in a bright and open space with high ceilings and modern globe pendant lighting, with additional standing room to spare. At the center of it all is Deeper Roots' long-cultivated coffee program.
"We went all out for espresso," Adam Shaw, lead roaster and green buyer for Deeper Roots, said of the new shop.
The bar's drinks station is centered around a custom vinyl-wrapped La Marzocco KB90 machine paired with a fleet of three Mahlkönig E65 grinders — one for Deeper Roots' Alchemy house espresso, one for single-origin espressos, and one for decaf. Two Modbar pourover systems paired with a Mahlkönig EK43 support Hario V60 manual brews.
The rumble of those grinders is partially absorbed by hanging moss walls in couch seating areas. The layout of the bar and furniture is designed to encourage a flow of customers to explore art on the wall and enjoy the natural surfaces and elements around the room.
"We relied on plant-based darker greens to keep the space grounded, with brass accents in the lighting and walnut wood surfaces anywhere we could fit them," Shaw told DCN. "We wanted the space to be current, welcoming and open."
Deeper Roots continues to roast its coffees on a relatively new Loring Kestrel as well as its original 18-kilo US Roaster Corp machine inside the expansive West End production facility it opened in late 2017.
Shaw said that while business stagnated throughout the pandemic, the decade-old company feels fortunate to be emerging anew without having been forced into any difficult layoffs or downsizing.
"We tried to take this time to cut away systems and habits that were extraneous and really tried to buckle down on what works while keeping an eye towards being fully open again soon," said Shaw. "Our customers played a huge role, as well, and truly kept the lights on. When we shifted to a large amount of online sales, they shifted with us. When we couldn't let people in the doors, they waited outside. We can't thank them enough and we're already seeing how the good weather and widespread vaccinations are already starting to help growth begin again as well as helping jumpstart a brand new buildout."
Deeper Roots is also focusing on helping its wholesale customers navigate their own sensitive post-pandemic situations, while nurturing its own community fundraising blend program, cold coffee products in development, and another small neighborhood-oriented retail cafe in the works.
Deeper Roots Coffee Downtown is now open at 338 W. Fourth St. in Cincinnati.
Related Reading
Howard Bryman
Howard Bryman is the associate editor of Daily Coffee News by Roast Magazine. He is based in Portland, Oregon.