Caribou Coffee is the latest to add plant-based meat to its menu
3 min read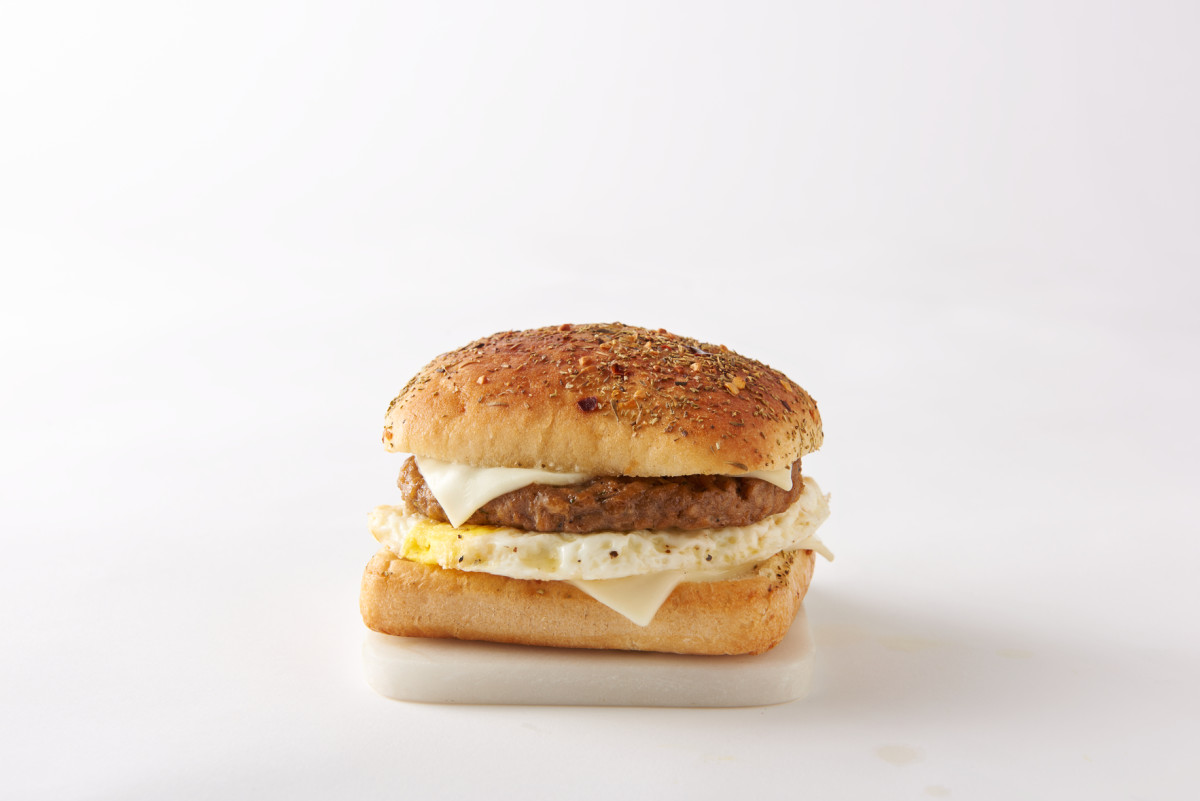 Caribou Coffee is joining other fast-food restaurants in offering plant-based meats on their menu. 
The Minnesota-based coffee chain on Wednesday announced it has added a vegetarian breakfast sandwich to its menu, which will be available starting Thursday, March 4. 
The Beyond Meat sausage with egg and mozzarella sandwich features a plant-based sausage patty from Beyond Meat, a cage-free fried egg, mozzarella cheese on an herb ciabatta roll.
"We're always looking for new, innovative choices to meet our guests' needs," said Caribou's Director of Product Innovation Andrew Kraus. "Caribou's food menu includes gluten-free and vegetarian menu items today, and with an increased demand in the marketplace for plant-based options, we knew we wanted to provide a great-tasting option for our guests."
Plant-based meats are all the rage these days, with many fast-food restaurants partnering with manufacturers to offer a meatless alternative, and marks the latest restaurant partnership for industry leader Beyond Meat. 
"We are excited to partner with Caribou Coffee on their new breakfast sandwich offering," Beyond Meat's VP of Foodservice Sales Tim Smith said. "The introduction of the Beyond Meat Sausage with Egg & Mozzarella Sandwich is a testament to Beyond Meat and Caribou Coffee's common goal of providing consumers with satisfying, craveable and better-for-you meal offerings."
Major fast-food chains join plant-based craze
Last month, Beyond Meat announced an expanded partnership with McDonald's to serve a McPlant burger as well as exploring other plant-based items, such as chicken, pork and egg as part of the fast-food giant's McPlant menu. The same day, the company said it's working with Yum! Brands (Taco Bell, KFC and Pizza Hut) on more plant-based chicken options, as well as pizza toppings and taco fillings. 
Plant-based meats in the past few years have become staples on fast-food menus, and the market for these meatless options is only growing, with Beyond Meat leading the pack followed by Impossible Foods (served at Starbucks, Qdoba and Burger King, as well as other restaurants in Minnesota), UPROXX says.
And others are jumping into the mix. Just this week, Minnesota-based restauranteur Steele Smiley, the CEO of Crisp & Green, revealed he's opening a 100% plant-based fast-food restaurant in Wayzata in April, with plans to take the concept nationwide this year. The restaurant, called Stalk & Spade, will serve plant-based products developed by Smiley's team. 
As Forbes put it, he's trying to build the plant-based McDonald's of the future with this restaurant chain. 
The plant-based food market (proteins and dairy) is expected to reach $74.2 billion globally by 2027, a growth of 11.9%, Meticulous Research reported in September 2020. That's up from $4.6 billion in 2018, according to investment firm UBS in 2019.
This growth is coming from more people choosing to eat a plant-based diet for reasons that include more people going vegan and consumers seeking a more environmentally friendly protein option (tofu, beans, peas and nuts have lower carbon footprints than even the most environmentally conscious meat and dairy producers, Our World In Data says); as well as intolerances to animal proteins and other health reasons. 
The COVID-19 pandemic is also helping drive industry growth. Meticulous Research says Beyond Meat and Impossible Foods both saw a surge in sales in the first quarter last year, when there were COVID-related shortages of beef and pork. Beyond Meat in May 2020 reported a 141% increase in revenue over the previous year. 
The popularity of these products has prompted many plant-based protein manufacturers to expand their offerings and availability, as well as cut their prices to appeal to more consumers, which will only aid in industry growth, the firm notes. 
Looking for more meatless foods? UPROXX published this list of all the major fast-food chains that are now serving plant-based meats.