BLK & Bold Inks NBA Deal, Releases The Warm UpDaily Coffee News by Roast Magazine
2 min read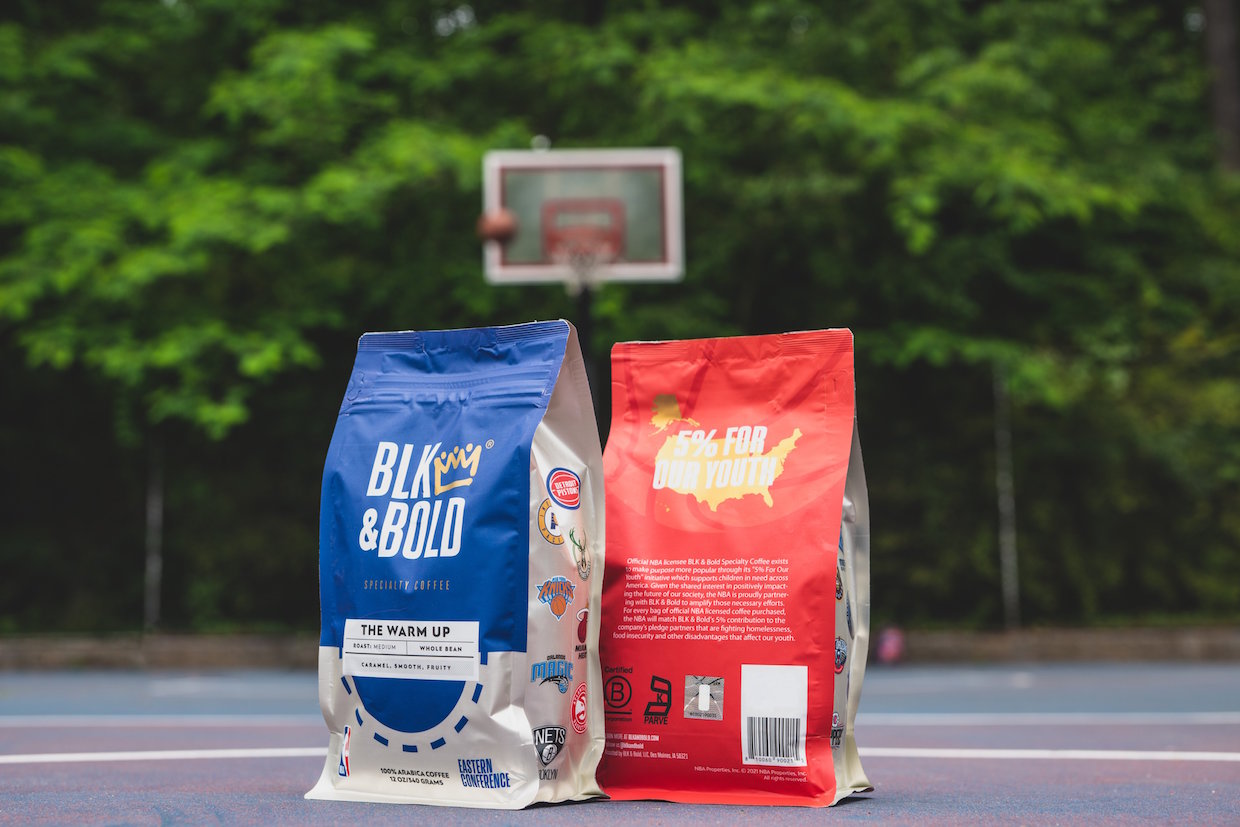 Des Moines, Iowa-based coffee roasting company BLK & Bold continues to take and make big shots, most recently signing a partnership deal with the National Basketball Association.
While the financial terms of the deal have not been disclosed, it has resulted in two new bagged, NBA-themed coffees, and it will put the roasting company in a position to "co-brand, co-market, and collaborate [with the NBA] on the overall development and accessibility of BLK & Bold [products]," according to BLK & Bold Co-Founder and CEO Pernell Cezar.
Cezar and childhood friend from Gary, Indiana, Rod Johnson launched BLK & Bold in 2018, positioning the company as proudly Black-owned in a specialty coffee industry in which Black people have historically been under-represented as owners and as consumers. Amidst a whirlwind of growth since, the company last year became a certified B Corp, while moving into a new 10,000-square-foot roastery stocked with Mill City Roasters.
Now with the NBA playoffs in full swing, BLK & Bold coffees have the potential to reach even more new fans.
---
Related Reading
---
The initial fruits of the NBA partnership are two different packages of a blend called The Warm Up, which combines coffees from Ethiopia and Central America. One version carries the distinct blue and team logos of the NBA's Eastern Conference, while the other bears the red and team logos of the Western Conference. The company has also released NBA coffee trading cards for bundle purchases.
In an announcement of the release and partnership, BLK & Bold's Johnson said the initial products represent a "foundation for how we [BLK & Bold] can get creative in the future."
Conceived as a socially driven company, BLK & Bold donates 5% of proceeds from all its coffee sales to more than a dozen nonprofit organizations, all of which are dedicated to programming and services for traditionally underserved youth, with many focusing on urban populations. The NBA is matching the 5% donation for sales of The Warm Up blend.
Nick Brown
Nick Brown is the editor of Daily Coffee News by Roast Magazine. Feedback and story ideas are welcome at publisher (at) dailycoffeenews.com, or see the "About Us" page for contact information.