BBC – Travel – Doubles: Trinidad's addictively spicy street snack
9 min read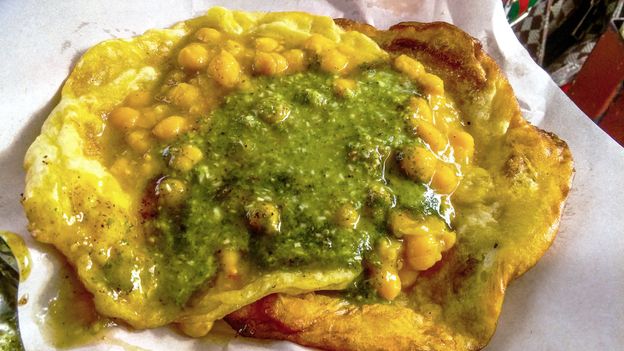 When I visited my father's Caribbean home of Trinidad & Tobago from our New York base, I'd trail behind him as he walked the streets and byways of his youth. Most exciting were the stops he made at street food vendors, who hawked everything from peppered fruits to peanuts and spiced chickpeas, hand pies stuffed with seasoned potato, and shaved iced cones liberally doused with fruit syrups and sweetened condensed milk.
But of these offerings only one was the indisputable king: doubles.
It's the street food of the twin island nation that emerges as a jewel
Doubles is a humble sandwich made from curried chickpeas tucked between two pieces of fried flat bread and dressed in tamarind and coriander sauces, mango chutney, kuchela (spicy, green mango chutney) and cucumber. It's sold from makeshift stalls that have changed little from the original ones nearly a century ago, as well as in popular restaurants and tiny cafes. The best doubles feature soft bread and tender chickpeas that have undergone a long simmer in a curry sauce. When the condiments are added, the punchy taste experience perfectly balances sweet, tart and spicy in one addictive little package.
A vegan snack that appeals to all Trinidadians, doubles has become anytime-fare that serves as a popular go-to for late-night clubbers, a welcome hangover cure, a Carnival staple and a fast-food breakfast for schoolchildren and commuters. In 2012, it was for doubles that Trinidad's parliament recessed during its longest-ever session of 27 hours of continuous debate.
Like many great food traditions, doubles are part cultural tradition and part legend. Aficionados often refer to the snack as the epitome of Trinidadian cuisine, even though they've only been on the street food scene for less than a century. This is no small accomplishment considering how Trinidadian food is rooted in the ancient cuisines of West African, Indian, Chinese and Caribbean Indigenous people. In its relatively meteoric rise, doubles represents the cross-cultural amalgam that is Trinidad society, it's beloved by everyone, including locals from all backgrounds and visitors who sing its praises on social media.
Trinidad-based photographer and food journalist David Wears says that the adoration of doubles cannot be overstated. And, he says, doubles isn't just a hot commodity in Trinidad but also "up the islands" – the northerly islands in the Caribbean chain like St Lucia, Grenada, all the way up to Jamaica – as well as in the US, the UK and Canada, brought there by Trinidadian immigrants. The reach of doubles is so great that 30 May is recognised as International Doubles Day.
"Whenever I travel, the people I'm visiting jokingly remind me to bring them some doubles – except it's not really a joke," said Wears, whose Facebook group called Foodie Run TT features doubles as its main image. In addition to sharing Trinidadian food culture on Facebook, Wears organises groups of food lovers to visit culinary hotspots around the country. In 2013, he spent several months touring Trinidad to find the best doubles, and he has identified top contenders such as Pier 1 Doubles (Chaguaramas), Harrylal Doubles (Diego Martin), Original Sauce & Sons (Tunpuna), Franks Doubles (St Augustine), Ken's Doubles & Pies (Couva) and Dibe Green Shed Doubles (Chaguanas).
"I posted a question to the group about where to find the best doubles in [Trinidad & Tobago]. There were hundreds of comments and arguments. Then I announced my plan to find Trinidad's best doubles and people got really excited. Everyone from chefs to food enthusiasts to regular people just wanted to come along," said Wears, who asked locals to offer up their town's best five doubles vendors from which judges would select the best.
Doubles are, in many ways, the poster child for the cuisine of Trinidad & Tobago, which was born from an eclectic and often fraught history that produced a culinary fusion from the cultures that have called this island home. The foodways and techniques of Indigenous tribes were absorbed by Spanish, French and English colonisers whose cuisine melded with that of those they enslaved and indentured: West Africans, Chinese and Indians.
What evolved is the unique variety of food for which the country is known: curried local vegetables and fruits; Buss Up Shut, or torn paratha roti, from the Indian tradition; Chinese Caribbean fare like local fried rice or pow (bao) buns stuffed with barbecue pork, chicken or vegetables; stewed meats browned in caramelised sugar from West African cooking styles; and barbecue, the Indigenous method of preserving heavily spiced meat by smoking.
From these culinary riches, it's the street food of the twin island nation that emerges as a jewel. Richly varied, cheap, easily available and ever-changing, Trinidad's street eats tell a story of desperation and opportunity that is most embodied in the story of doubles. And, perhaps the most intriguing layer to the story is its contested origin, with two halves of one family claiming to have created it and much of the nation taking sides.
It's generally accepted that doubles were the 1930s creation of a family of Muslim Indians descended from indentured labourers in the city of Princes Town in Trinidad's south. According to his book Out of the Doubles Kitchen, Badru Deen writes that his grandfather Mamool Deen and grandmother Rasulan Ali were desperate to rise above the poverty that plagued low-wage labourers working in the nation's sugarcane and cocoa estates, a legacy that began with enslavement and continued with indenture into the early 20th Century.
Gathering meagre resources from the sale of their only goat, the couple fried chana (chickpeas) in their open-fire, outdoor kitchen. Mamool sold the treat wrapped in brown paper cones from a basket at the roadside. As their wares became popular, the innovative pair expanded to include bara, or fried dough, upon which the chickpeas could be placed like a plate, along with sauces. Originally, bara was made from ground urad dal (split black lentils) but was later adapted to use cheaper wheat flour to which spices were added. The legendary name of "doubles" came about when customers asked the vendors to "double up" the bara to form a sandwich.
Mamool's two sisters were married to his wife's two brothers, Asgar and Ashraff "Choate" Ali, a situation that led to a decades-long family feud over doubles. Deen writes that, concerned for the welfare of his extended family, Mamool brought his brothers-in-law into the business. However, trouble started when Choate began to sell doubles in Mamool's territory instead of venturing out on his own. By contrast, Araby Ali, Choate's grandson, who today sells doubles in the town of Barataria just outside the capital city of Port of Spain, claims it was instead his grandfather who started the business. Deen categorically rejects this claim, going so far as to include pages of "testimonials" from elders and historians verifying Mamool Deen as the doubles creator.
The feud is so prevalent that some branches of the family no longer speak. Some historians like Brinsley Samaroo, a retired historian from the University of the West Indies who studied the Indian diaspora in Trinidad, support the idea of Mamool Deen as the founder; while others like Wears believe there is some grey area. Although the name "doubles" has never been trademarked, the dispute goes on even as the dish has become an iconic Trinidadian food having been adopted and co-opted by many others.
You may also be interested in:
• The secret history of Angostura Bitters
• Jamaica's breakfast of champions
• A melting pot made of cheese
Regardless of which family member invented it, with each sandwich there remains a deep tie to India, a mother country forsaken nearly 200 years ago when Indians were tricked, forced or driven by poverty into indenture to fill the gap created by the emancipation of the island's enslaved Africans. However, no-one knows for sure which Indian dish might have directly inspired the creation of doubles. 
Samaroo believes that doubles are a form of chana or chole bhature, a popular street food on the subcontinent featuring chickpeas cooked in a masala (spice mix) and served with a large, puffed fried bread called puri. Indian celebrity chef Sanjeev Kapoor claims that the word bara (the bread used in doubles) is how the word vada (a doughnut-like fried treat) can sometimes be pronounced in some parts of India, notably in the north-east regions like Uttar Pradesh from which the majority of Trinidad's indentured laborers hailed.
"There are many types of vada or bara in India, which are made with ground dal – split beans or pulses – of different kinds, like the original bara for doubles," said Kapoor, who hosts Khanna Khazana, a TV show featuring Indian cuisine with 500 million viewers worldwide. 
Kapoor, who has travelled the world studying Indian cuisine, has seen versions of vada or bara as far afield as Mauritius and Fiji – anywhere where Indians now live. He notes that even though doubles are unique to Trinidad and that bara has evolved to use wheat flour, that the Deens and Alis created something familiar that was more like their native Indian food.
"Nostalgia is a powerful preservationist," said the chef. "Indians in these regions – they stick to their roots and follow customs that may even be long gone in India itself."
Regardless of the dish's origin, Wears says the ethos of the Deen-Ali family doubles business is based on a spirit of ingenuity and resilience, which helps make the case for doubles being crowned as the unofficial national food of Trinidad & Tobago. The dish is not just a symbol of the Indian population, but also for the other groups of people who have brought aspects of perseverance, creativity and strength from their native cultures to the islands.
As they were for their original founders, doubles now serve as an egalitarian a way up and out of financial hardship for all Trinidadians. The ingredients are cheap, and most vendors follow the cost-effective, Deen-Ali tradition of serving them at folding tables under wide beach umbrellas from rudimentary coolers, buckets or other reused containers. Most of all, commitment to one's local doubles seller is hard-baked into the culture. Every town or village has its own vendor or vendors, who are supported like the hometown sports team.
"Doubles continue to be sold everywhere," said Wears. "Anyone can make some sort of living because of the community spirit around the local doubles man, the vendor who sets up shop in a neighbourhood or main thoroughfare day after day trying to get by,"
Over the course of the pandemic, it has been common for Trinidadians who lost their jobs to turn to selling simple foods made in their homes, chiefly among them doubles. Araby says he has lost some customers as other vendors have opened their own doubles stands, an endeavour that has been aided by mechanised doubles factories that churn out bara and chana for vendors to buy and resell.
"Our business has been slow because a lot of people have been laid off with Covid, so everyone is opening a little doubles stall somewhere," said Araby. "Some of my good customers have opened up a doubles business."
While this overflow of doubles vendors – particularly those with mass-market products – potentially threatens to reduce the dish to little more than fast food a la McDonald's or Starbucks, Araby takes these developments in his stride. He remains confident that his secret technique and recipe, which includes a special curry powder, will allow his establishment to stand out and retain its place among the many potentially fly-by-night vendors who are likely to abandon the business once the economy re-stabilises.
Today, nearly 100 years on, doubles remain a family business for both the Deens and Alis. Araby's adult children – Ameera, Arifah and Arif – are all involved in the business, as is 14-year-old Zakiyyah, whose dream is one day to expand into the United States by starting his own dedicated doubles restaurant in New York or Miami, where there are large Caribbean populations. 
"Doubles have come down from our forefathers for generations," said Araby, who has prepared doubles around the world, including for the faithful when making Hajj, the Muslim pilgrimage to Mecca, in 2005.
"I hope we can expand. I hope we can take it to the next level one day."
Ramin Ganeshram is a journalist, historian and author of Sweet Hands: Island Cooking from Trinidad & Tobago.
Culinary Roots is a series from BBC Travel connecting to the rare and local foods woven into a place's heritage.
—
Join more than three million BBC Travel fans by liking us on Facebook, or follow us on Twitter and Instagram.
If you liked this story, sign up for the weekly bbc.com features newsletter called "The Essential List". A handpicked selection of stories from BBC Future, Culture, Worklife and Travel, delivered to your inbox every Friday.