20 Vegan Mexican Recipes You Need To Try Instead Of Takeout
2 min read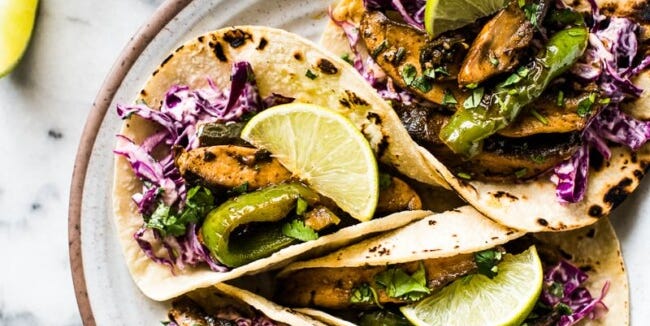 Whether you're looking to eat more plants or more Mexican food, you're in luck. Despite the stereotype that the cuisine's "classics" all involve meat, eating vegan and eating Mexican food can coexist quite beautifully.
According to Krista Linares, RDN, founder and owner of Nutrition con Sabor, "Traditional Mexican food is actually quite vegan-friendly," she says, adding that most dishes contain hearty and satisfying vegan staples like beans, seeds, corn, and squash, with plenty of their flavor derived from vegan-friendly acidic sources like lime and tomato salsa. "I encourage people to emphasize these ingredients for a meal that is vegan but also feels like a truly Mexican meal," she says.
But how does one simply…ditch the animal products? What's an enchilada not doused in sour cream, a ceviche not loaded with shrimp, or a taco free of pastor? Linares recommends not thinking about, say, visually replicating the meal, but thinking about what needs a certain ingredient might meet. "For example, in Mexican food, cheese usually adds a creamy, cooling element, so avocado might be a good replacement because it has these same qualities," she says.
Plant-based meat alternatives are certainly an option worth pursuing (beware of sky-high sodium content, however). But Linares says there are plenty of whole food toppings and fillings to add to your tacos and tamales like rajas (strips of roasted poblano pepper), mushrooms, and potato.
If you need even more reasons to ditch the meat next time you're cooking Mexican, Linares says opting for vegan versions of your favorite dishes provides a great source of fiber. Plus, that fiber promotes satiety between meals and prevents overeating. High-fiber diets are also great for your digestive health, and are even associated with a lower risk of chronic diseases like heart disease and diabetes. Salud to that!
And without further ado, here are the top 20 vegan Mexican dishes to try for breakfast, lunch, dinner, and even a few sweet treats.