20 fish and seafood recipes perfect for Lent (or any time) | Food and cooking
3 min read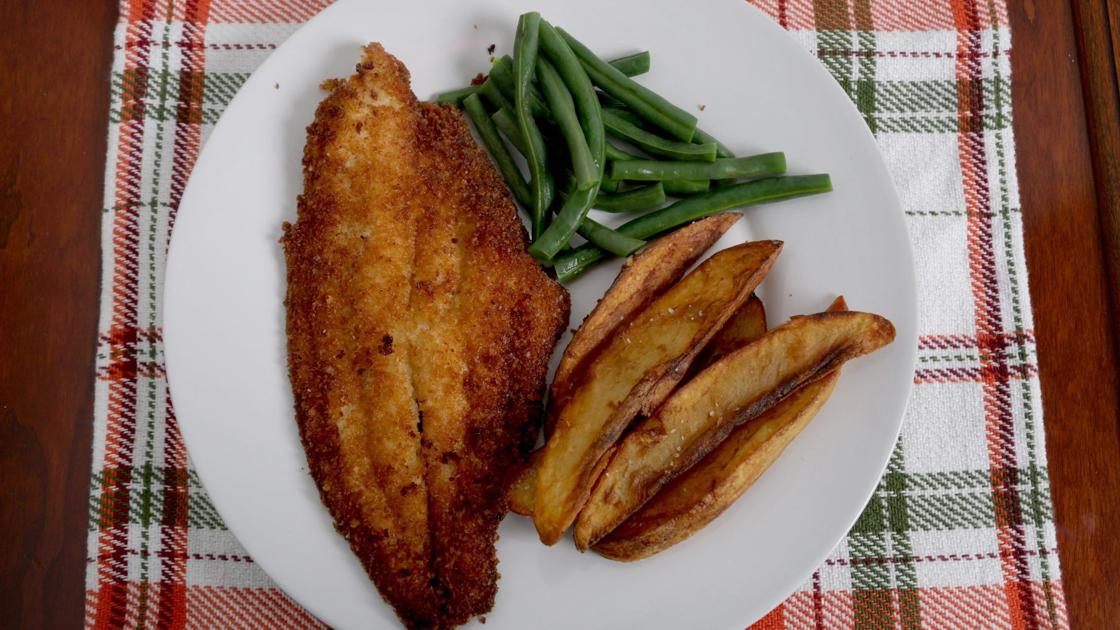 2 (8-ounce) catfish fillets
5 cups round restaurant-style tortilla chips, loosely packed
½ teaspoon ground black pepper
2 tablespoons extra virgin olive oil
¼ cup plus 2 tablespoons vegetable oil
8 (6-inch) flour or corn tortillas
8 to 12 tablespoons chipotle aioli, store bought or homemade
1 cup shredded green cabbage
1 ½ cups pico de gallo, store bought or homemade
Notes: If you don't have buttermilk on hand, place 1 tablespoon plus 1 ½ teaspoons lemon juice or white vinegar in a 2-cup measuring cup. Fill with milk to the 1 ½ cup line and let stand for five minutes.
• Don't use baked tortilla chips for this dish; the oiliness of thicker chips sticks better to the fish.
• The Royale uses oil that is a combination of 75% vegetable oil and 25% extra virgin olive oil to pan fry the fillets.
• For the final finish on the fillets, the Royale bakes them directly on the oven rack. You may place a baking sheet under the rack to catch loose crumbs. Alternately, use a rimmed cookie sheet with a cooling rack set on top for the bake. For the test, we used the rimmed cookie sheet.
• The Royale uses flour tortillas for their tacos but you can substitute corn if desired.
1. An hour or two before cooking, cut the fillets in half lengthwise, then cut each piece in half width wise. Rinse under cold water and pat dry.
2. Pour the buttermilk into a shallow bowl and add the fillets. Cover and return to the refrigerator.
3. To make the tortilla chip breading, pulse the tortilla chips in a food processor to crumbs. Add cumin, salt and pepper to the mix and stir to blend. Place 1 ½ cups in a shallow dish big enough to hold a fillet.
4. Preheat the oven to 350 degrees.
5. Remove catfish fillets from the refrigerator. Shake off excess buttermilk and dredge the fillets through the breading on both sides. Add more breading as needed.
6. Preheat an 8-inch stainless steel frying pan over medium-high heat for a minute or two. Mix the olive oil into the vegetable oil and add to the pan. Heat the oil until it begins to shimmer and a drop of water skitters on the surface. Add the fillets and pan fry until the coating turns light brown, about 3 to 4 minutes per side. If the breading does not adhere to the fillets, put the pan-fried fillets back in the dish with the breading and pat in place on both sides.
7. Place finished fillets on a rimmed baking sheet set with a rack and put in the oven to crisp up for about 5 to 7 minutes.
8. Spray a nonstick skillet lightly with cooking spray and add the tortillas to soften.
9. Place a tortilla on the plate and run a line of chipotle mayonnaise down the center. Top with shredded cabbage. Add a catfish fillet and top with 3 tablespoons pico de gallo.
Per serving: 821 calories; 47g fat; 12g saturated fat; 78mg cholesterol; 28g protein; 73g carbohydrate; 8g sugar; 2g fiber; 1,774mg sodium; 221mg calcium