12 Basque Recipes Straight from the Pyrenees
4 min read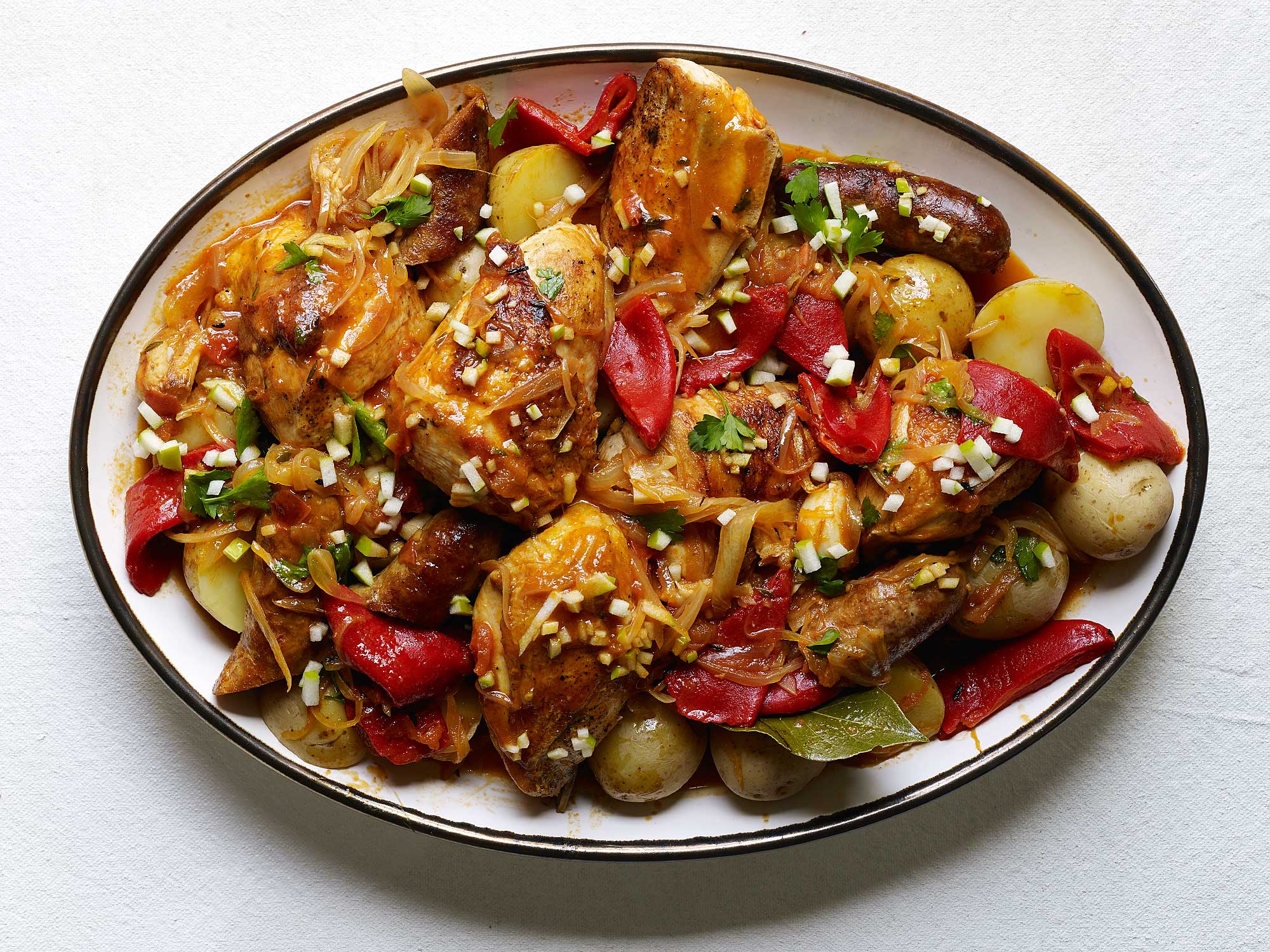 It won't take long after arriving in the Basque Country to understand why it has become a destination for epicureans. Sure, the region boasts a slew of showy Michelin-starred gastronomic temples, but the true strength of Euskadi, as the locals call it, lies in its exquisite  pantry. If your only experience with this rich cuisine is through San Sebastian's pintxo bars and those brilliant kitchens tweezing out perfect plates of nueva cocina, you're missing out. Classic Basque dishes are comforting and unfussy, and many deserve a spot in your weeknight rotation.
Nestled between the Pyrenees and the Atlantic Ocean, and straddling the border of  northern Spain and southern France, the Basque Country is distinct in both language and cuisine. But no matter the context, Basque food is invariably a celebration of the region's many renowned ingredients. The Spanish side of the border is home to feasts of the freshest seafood straight from the ocean: Hake, salt cod, and tuna make their way into traditional peppery recipes, while marmitako, a rustic and filling soup originally made by local fishermen, is now a staple throughout Basque households and supper clubs called sociedades. The French side of the border boasts the world's production of the fruity and delicate Espelette pepper. The ingredient is indispensable in French Basque cuisine and, as many other specialties from the area, is easier to acquire than you may have thought. Find the spice at well-stocked supermarkets (or order online), then plan your next small bite around the region's famous charcuterie.
These are the humble yet dignified building blocks upon which so many of Spain's contemporary culinary wonders have been erected. When you've had your fill of micro-greens and sous-vide pyrotechnics, you'll find yourself craving these soulful dishes again and again.
Beth Galton
In Basque country, this egg-based tortilla is sometimes sliced through the middle like a sandwich roll and layered with cured ham and sheep's milk cheese. If cutting horizontally through the thin, delicate tortilla seems too troublesome, the ham and cheese are just as delicious served on the side. Get the recipe for Basque Potato and Pepper Tortilla with Ham and Cheese »
Beth Galton
The signature dessert of the Basque region, this pastry is made by sandwiching a layer of jam or sweet pastry cream between two shortbread-like rounds. Cherry preserves are a classic filling—choosing a good-quality jam makes all the difference—and the dough itself resembles a cookie dough, with additional eggs lending a cakier texture. Get the recipe for Basque Cherry Pie (Cherry Gâteau Basque) »
Beth Galton
This braised chicken recipe, adapted from chef Sébastien Gravé, is emblematic of the Basque region's affection for colorful, peppery stews. Though paprika can work in a pinch, it's the flakier, lightly spicy, more enigmatic Espelette pepper that's characteristic of the region. Get the recipe for Basque Braised Chicken With Peppers (Chicken Basquaise) »
Matt Taylor-Gross
In this traditional Basque recipe, marmitako means roughly "from the pot." Traditionally, locals crack the potatoes with a partial cut, then break off ragged chunks to toss into and add starchiness to the potato soup. Adding the tuna right at the end, just as the soup is removed from the heat, keeps the fish moist and tender. Get the recipe for Marmitako (Basque Tuna and Potato Soup) »
Beth Galton
This riff on Basque pipérade, a classic dish of stewed peppers, incorporates seafood from the region. Hake is traditional, but mild, white-fleshed fish like striped bass or haddock make fine substitutes. Get the recipe for Basque-Style Fish With Green Peppers and Manila Clams »
Noah Fecks
An adaptation of Basque Christmas cookies, these crumbly harinados are made with ground up pistachios and a blend of gluten-free flours. Get the recipe for Pistachio Shortbread Cookies »
Michelle Heimerman
Pipérade, a sauté of onions, peppers, and tomato, adds sweet Basque flavor to tuna. Get the recipe for Basque Pipérade with Seared Tuna Steaks »
Michelle Heimerman
Some fresh herbs are all you need for these French mussels, which come from Langon, France. Get the recipe for Mussels with Herbed Vinaigrette (Moules Vinaigrette) »
Michelle Heimerman
Foie gras, chanterelles, and black truffle juice combine to make a particularly luxurious filling for tomatoes. Get the recipe for Tomatoes Stuffed with Foie Gras, Duck Confit, and Chanterelles (Tomates Farcies) »
Michelle Heimerman
Hearty "bouillabasque"—Darroze's tongue-in-cheek name for a Basque-style bouillabaisse, in which the fish is cooked separately and then added to a rich, reduced seafood-and-tomato stock—perfectly marries the culinary cornerstones of southwest France: duck fat, seafood, and armagnac. You can grill the fish on grates or a plancha, in the Spanish style, but a stovetop solution works just as well. Serve with aïoli, rouille, or any garlicky mayonnaise, along with some crusty bread. Get the recipe for Basque Seafood Stew »
Michelle Heimerman
The crust of this striking dessert—named for Les Landes, the region where it is beloved and ubiquitous—curls up into jagged shards as it cooks, like a crown. Get the recipe for Apple and Armagnac Phyllo Pie (Tourtière Landaise) »
Béchamel Sauce
Kate Berry
The simplest of the French mother sauces, Béchamel has several origin stories, but the first printed reference appears in Le cuisinier moderne (1733) by Vincent La Chapelle, a master cook who served various aristocratic patrons, including Madame de Pompadour. In this version, chef Hélène Darroze adds garlic, as well as the mild Espelette pepper, cultivated in the Pyrénées-Atlantiques. Get the recipe for Béchamel Sauce »